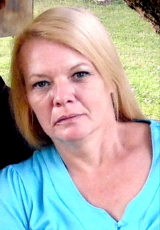 Jeanette Fay White, 47 of Palestine, West Virginia passed away Friday October 30, 2015 at Camden Clark Memorial Campus.

Jeanette was born June 19, 1968, in Gassaway WV the daughter of the late Roscoe and Eloise (Hall) White.

She was a 1986 graduate of Wirt County High School, and worked for many years, in Home Health Care. She was a member of Bethesda Baptist Church of Palestine WV.

Jeanette will be dearly missed by her family and friends. She had a big heart, was always willing to help someone out. Her grandchildren were the light of her Life.

She is survived by her fiancé, Tom McCune of Palestine; children, Jamie (David) Wine of Smithville WV and Scottie Lockhart of Elizabeth WV; grandchildren, Timothy Joel Rexroad and Nevaeh Layne Rexroad of Elizabeth; brother, Steve (Geraldine) White of Parkersburg WV; nephew, Matthew White of Elizabeth; step-grandchildren, Paige Wine, Haley Wine and Morgan Byrd of Parkersburg; special friend and caregiver, Debra Hardman of Palestine; and several cousins.

Jeanette was preceded in death by both her parents.

Services will be 11:00 a.m. Tuesday November 3, 2015 at Matheny Whited Funeral Home of Elizabeth WV with the Rev. Brian Arthur officiating. Visitation will be 4-8 Monday, November 2. Interment will be at Orma Methodist Church Cemetery in Orma WV.