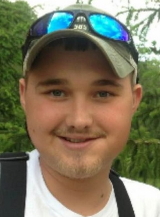 Shane Michael Hoff, 24, of Looneyville, West Virginia, died Sunday, October 25, 2015.

Shane was a former employee of General Pipeline. He was an avid outdoorsman, he loved hunting and fishing. He also enjoyed gunsmithing, woodworking and fly tying. Shane touched the hearts of all who knew him.

Shane is survived by his wife, Belinda and their two dogs; parents, Robbie and Samantha; brother, Logan; grandparents, Paul and Delores Hoff, Harry and Connie Boyd; grandfather, Charlie.

He was preceded in death by his aunt, Shawn Hoff.

A funeral service will be held at 7:00 p.m. Thursday, October 29 at the John H. Taylor Funeral Home, Spencer, with Jeff Fetty and the Rev. Danny Whited officiating.

Friends may call at the funeral home from 5-7 p.m. Thursday.