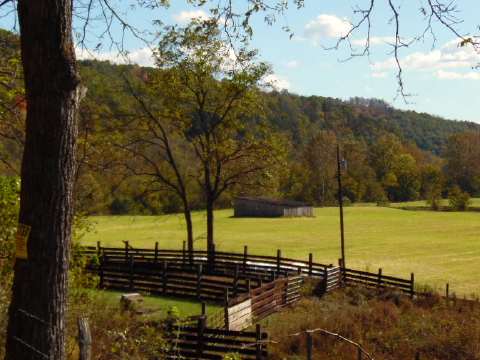 Roane County's Lower Barnes Run is a community place of what was,
not what is, at one time thriving with several dozen homes and
families, now gone, once known as Cainsboro, the creek emptied
into the West Fork of the Little Kanawha below Calhoun's Cremo.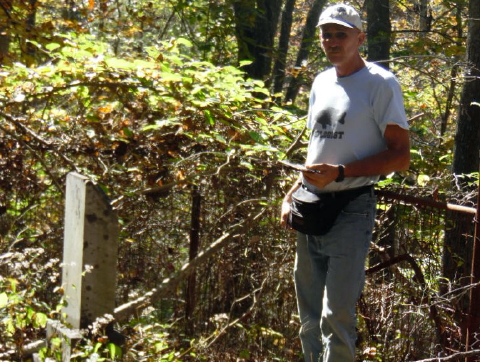 Resident of a fork of Barnes Run, retired Roane Co. science
teacher Robert Mertz, rediscovers remote hilltop Mowrey Cemetery,
the only marked grave Oel Ray Mowery (1899-1918) died in a logging
accident, he was the son of Jerome Mowrey (1843-1926) another son
Orlando Page Mowery (with about twelve children) lived nearby
By Bob Weaver 2015
(Old photos provided by Jim McCormick, Mike and Sherra Nelle Poling Ferrell, Mary Nichols and Juanita Bell)
Barnes Run in Roane County is a stream and valley joining the West Fork of the Little Kanawha River below Cremo in Calhoun, along the original Richardsonville Road.
The Barnes Run community tenuously connects to the Roane communities of Peter Cave, Roane's Little Creek and Toms Run.
The community had its own correspondent for the Reedy News in 1905:
- Carter Fox had quite an accident here last week, the day after his brother Sam was married. He thought he should show off a little before the girls, caught his foot in the horse stirrup, fell in a mud hole and made a terrible display of himself.
- Dan Connolly's fields are filled with 50 bushels of choice sweet potatoes. He will sell plants at 20 cents per hundred and will market them in Spencer.
- James T. Bennett's barn has been set on fire three times and Dan Connolly's house twice and the schoolhouse was badly damaged by fire.
- G. D. Ledsome and sons Jay and Ray attended the circus in Parkersburg.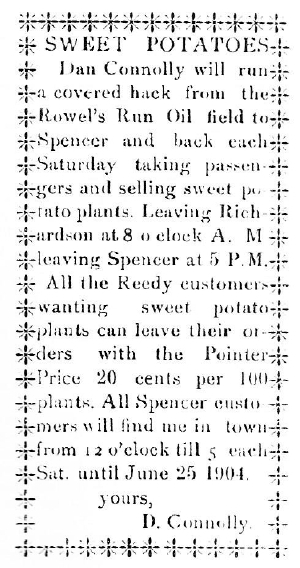 Sweet Potato Dan's ad in the Reedy News
Perhaps in the last century, its most famous resident was "Sweet Potato" Daniel Connolly, who produced large crops of the vegetable for market.
"Sweet Potato" built a large cellar with a double wall for sawdust between the walls to store the sweet potatoes, said Jim McCormick of Grantsville, who grew up in the community. "Sweet Potato" also operated a grist mill.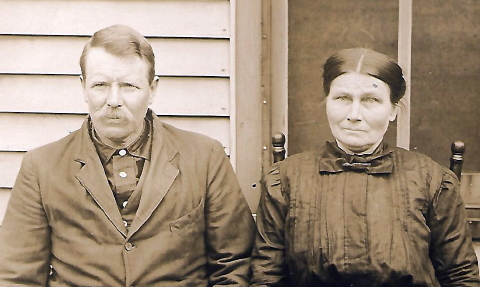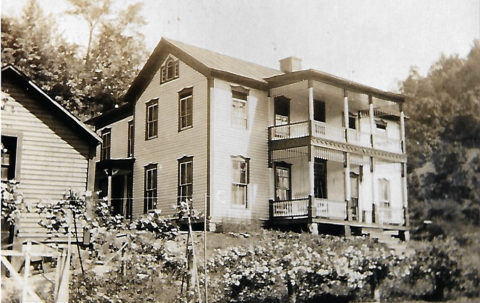 "Sweet Potato" Dan (1862-1940) and Hannah Wells (1864-1961) were
married in 1886, prosperous farmers who lived in this stately
farm house, later occupied by Buford Nichols and their family
Juanita Nichols Bell of Grantsville, wife of James Bell, said her parents inherited the "Sweet Potatoes" homestead, her parents Buford and Grace Connolly Nichols. She has one sister, Mary, both growing up there.
"It was a good place to come of age, many families lived in the valley, and we had free gas," she said.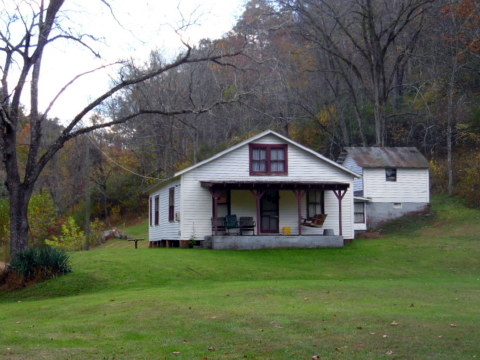 The Elwood Alvin and Dolly Ayers McCormick house, still
standing, they had seven children, Walter Franklin McCormick,
Barbara Dougherty, Loretta Joe Morrison, Shirley Moore,
Darlene Cisco and Jim McCormick, all still living in 2015
Jim McCormick of Grantsville, who grew up in the valley, recalled the two one room schools in the community and many of the characters, including Sarah Henthorne, "The poorest woman I ever knew," who lived in a tiny, primitive dwelling on the creek.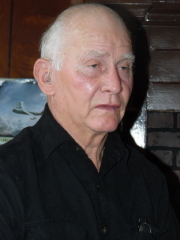 McCormick (left) recalled he and his brother, under 10 at the time, were asked to visit Henthorne, who baked a cake for them.
He said, "My brother began to eat his cake, and bitterly spit into his hand, then secretly poked it down a crack in the floor. Sarah didn't have enough money to buy sugar for the cake."
"Sarah was unable to buy lamp oil for a lantern, let alone a flashlight, and would cut pine branches and light them to make the trip down the hollow at night to visit."
McCormick's grandparents lived on Barnes Run, Orland and Effie Stalnaker McCormick, with his other grandparents being George and Addie Sinnett Ayers.
McCormick said it was once called "Cainsburg," with hardy farm families, most worshiping at the Cedar Grove Church on the Calhoun side of the West Fork of the Little Kanawha, churchgoers fording the river.
Juanita Nichols Bell of Grantsville, wife of James Bell, said her parents inherited "Sweet Potatoes" homestead, her parents Buford and Grace Connolly Nichols. She has one sister, Mary.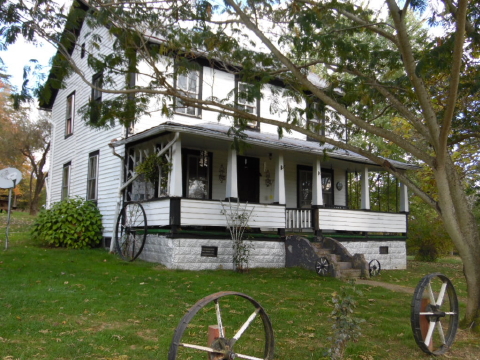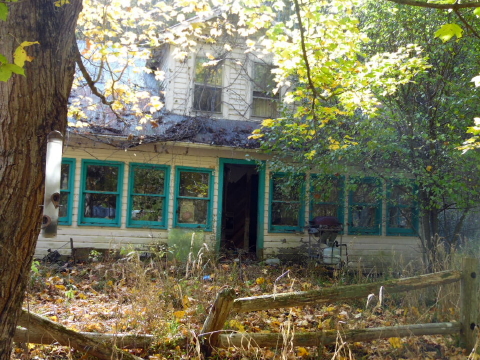 The Lukens houses, Hiram and Harry Lukens,
early farmers of the Barnes Run community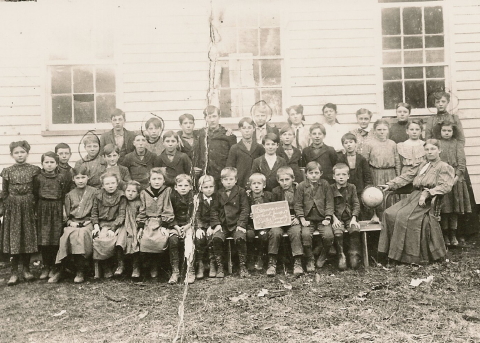 The first Barnes Run one room school in early 1900s with "Sweet Potato" Dan Connolly's daughter Bertha Connolly, teacher (shown right rear)
87-year-old Orlando Paige Starcher of Spencer, who grew up on Rockcamp off Barnes Run, was born in 1928, recalled the families who "lived from the earth."
He said a Barnes Run man "sold his 13-year-old daughter to a middle aged man who lived up the creek and she had two children by him, then left him for a life in Ohio." Orlando was one of nine children of Dair and Ada Bell Tanner Starcher, never marrying.
He recalled Roy Tanner's three year old son, "He ate green grapes and died. " Then there was the Fred Goff family of 14 kids and had two houses burn., he said.
"Getting out of there was wading through the red clay mud, going to Creston, Spencer (Toms Run) or Cremo," Starcher recalled.
Jerome Mowery (1843-1926) and son Orlando Page Mowery lived on a homestead, long gone. Jerome Mowery had about twelve children. The Mowery's went into the world to have successful occupations and careers.
Landon Mowery, Hiram Lukens, Harry Lukens, Howard Lukens, Guy Blosser Ray Taylor, William Nichols, and Delbert Ferd Cain were among the residents in the early 20th Century.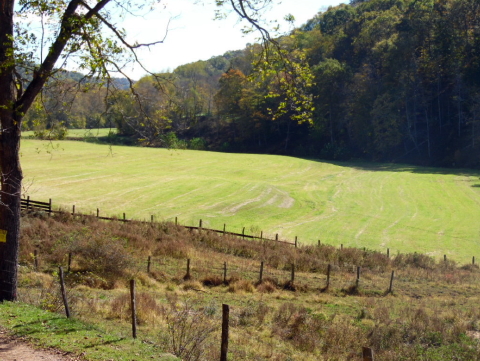 The large meadows along the West Fork of the
Little Kanawha were prized bottom lands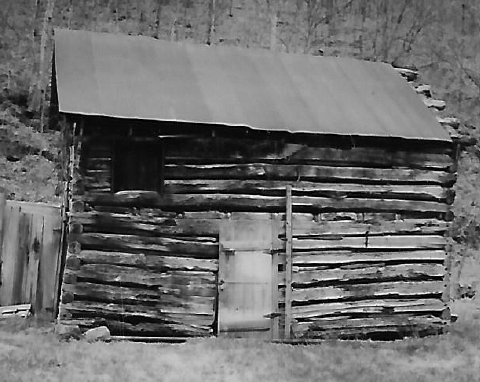 Early log house that once stood in the valley (Photo Mary Nichols)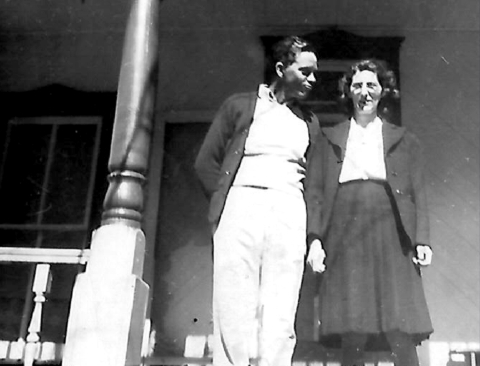 Buford and Grace Connolly Nichols, circa 1940s, who inherited
the "Sweet Potato" farm, and raised their family there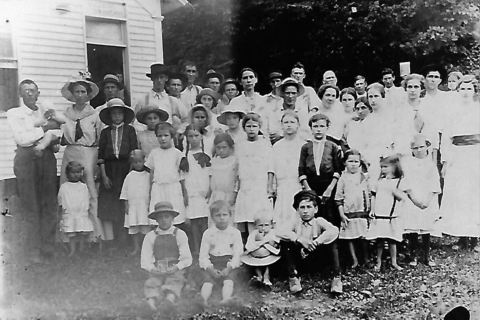 A Barnes Run one room school photo from 1917
More school kids from early 1900s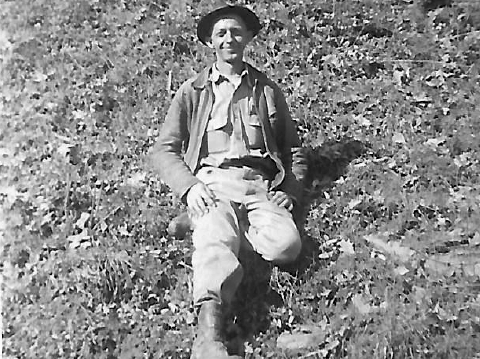 Early farmer Hiram Lukens
2015