CALHOUN NATIVE'S CREATIONS RECOGNIZED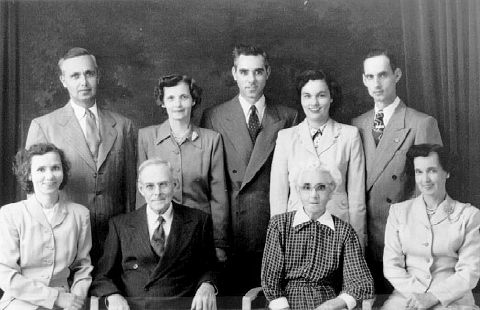 Judson and Naoma Stump Riddle Family - Front L-R: Stella
Riddle Reed, Judson Riddle, Naoma Stump Riddle, Augusta
Riddle; Back L-R: Alpha Riddle, Geneva Riddle Conrad,
Arden Riddle, Pauline Riddle Gainer, Paul Riddle
A former Calhoun man and veteran of World War II, Arden Riddle left the county to seek his fame and fortune after the conflict to establish an Ohio furniture factory and now the Canton Museum of Art is ensuring his life's labors will be remembered.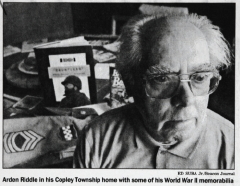 Left, An Akron Beacon Journal photo of furniture maker Arden Riddle in his Copley Township home with some of his WWII memorabilia



The museum trustees are turning over a selection of Riddle's furniture to the museum, in an exhibition titled Mid-Century Modern: The Furniture Craft of Arden Riddle.
The furnishings will be added to the museum's permanent collection and are expected to be part of a bigger Riddle exhibit a few years from now.
Riddle's parents Judson and Namoa Stump Riddle moved to Akron OH in 1942.
Arden Riddle died at 90 in 2011, he served in the US Army during World War II as a Master Sergeant in the European Theater
He was the owner and proprietor of the Arden Riddle Furniture Company located in Copley OH for the last half of the 20th Century, his furniture creations now being highly recognized.