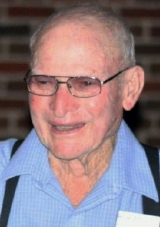 Boyd Robinson, 80 of Elizabeth WV passed away Tuesday, October 13, 2015 after an extended illness.

Boyd was born in Wirt County the son of the late Elven and Addie (Valentine) Robinson.

He was a 1954 graduate of Wirt County High School, served in the United States Army from 1954-1956. Boyd later worked at DuPont Washington WV while opening and operating Robinson's Farm and Lawn from his home in the Two Ripple Community. He left DuPont and moved his business to Palestine in the mid 60's where he served Wirt and surrounding county farmers for many years before moving to Florida in 1989.

Boyd worked in sales for John Deere in Florida before retiring due to health reasons. He made many friends in the Bostwick/Palatka Community and they truly missed him when he moved back to West Virginia this past spring.

Boyd was Known as "The man that fixed everyone's lawn mowers". He never met a stranger, he usually had something in common with everyone he met, whether it was tractors, lawn mowers or West Virginia. He was an active member of the Wirt County Fair, and received life-time honorary member award in 1985.

He is survived by his son, Mark (Carolyn) Robinson; grandson, Shane Robinson of Elizabeth; sisters, Willadean Martin of Chesapeake VA, Geraldine Brown of Sumter SC, Rosalie (Ron) Dolobach of Elizabeth, and brother, Gary (Judy) Robinson of Davisville WV: sister-in-law, Judith Burdette of Elizabeth; and several nieces and nephews.

He is preceded in death by both his parents; his wife, Freddie Robinson; daughter, Leslie Robinson Flannery in 1996, and one infant daughter; brothers, Charles Robinson, Wayne Robinson and 2 infant sisters.

Services will be 11:00 am Saturday, October 17, 2015 at Matheny Whited Funeral Home of Elizabeth WV with the Rev. Leary Vanhorn officiating. Military Graveside service will be held by American Legion Post 15 of Parkersburg WV at K of P Cemetery of Elizabeth. Visitation will be Friday October 16, 2105 from 4 to 8 p.m. at the funeral home. Memorial Donations can be made to Camp Barb Association PO BOX 700 Elizabeth WV 26143.