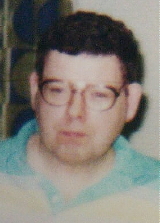 Richard E. Wine Jr., 64 of Ohio Valley Nursing Home of Davisville WV passed away Tuesday, September 29, 2015.

< Richard was born October 1, 1950 the son of the late Richard Wine Sr. and Dorothy (Murray) Wine Cheuvront of Palestine WV.

Richie enjoyed coloring, playing with his cap gun, and his Hershey candy.

He is survived by his mother; sister, Janet (Wiley) Westfall of Slate Creek WV; 2 brothers, Jim (Pamela) Wine of Windy Ridge WV and Dean (Melanie) Wine of Palestine; several aunts, uncles, nieces, nephews and cousins.

He was preceded in death by his father; stepfather, Calvin Cheuvront; sister-in-law Evelyn (Somerville) Wine; grandparents, Cecil and Georgia (Coe) Murray and James and Virginia (Daughtery) Wine.

Services will be 6:00 p.m. Friday, October 2, 2015 at Matheny Whited Funeral Home of Elizabeth WV, with the Rev. Delmas Stutler officiating. Visitation will be Friday from 4:00 p.m. until the time of service. Interment will be at K of P Cemetery of Elizabeth WV.