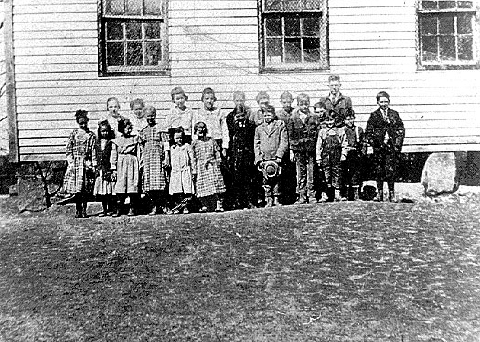 Ward School near Hur 1920s, Ernest McCoy teacher
By Bob Weaver
In 1930, my mother graduated from the eighth grade after scoring relatively high on the exam.
She walked to the one-room Ward School, a couple miles from her house at Hur.
The diploma test has questions that appear to require a considerable knowledge base and some cogitative thinking skills.
The test here is an actual reproduction of my mother's test paper, with the passing of the test required to graduate from the eighth grade.
Can you pass it?
She did with a score of 89%.
See also "THE TINY SEEDS OF WISDOM SOWN HERE" - Deep Woods Ward School Launched Notables
See 9 page test links below
1930 - 8th grade Penmanship test
1930 - 8th grade Spelling test
1930 - 8th grade Arithmetic test
1930 - 8th grade Geography test