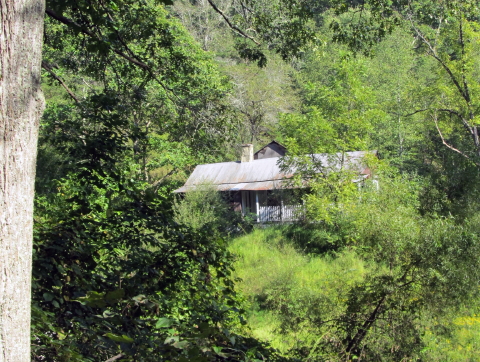 Ole Nicholas habitat on Bear Run
By Bob Weaver
This ole abandoned house on Bear Run was occupied during the 20th Century by Nicholas families, situated in a remote area off Nicut Road, with Nicholas families still living along the creek.
It is adjacent to the Bear Fork Wilderness, the Nicholas' being early comers to the Calhoun woods by 1820, with at least two cemeteries on the creek holding the oldtimers.
Bear Run, from the 1800s on, was habitated mostly by the same families, Nicholas, Cottrell, King and Parsons.
The early comers, Leven Nicholas (1756) and Zephhiah Nicholas, Jr. (1764) came to Bear Run about 1820, and the Nicholas clan is still there.
Acie and Dola Parson Nicholas raised their family in the ole house, living there from 1945 to 1988.
They had 11 children, nine still living.
Acie Nicholas was born in 1910 on Bear Run, one of the twelve children of Robert and Arizona O'Leary Nicholas. Acie married Dola Parsons in 1934, staring their married life in a log cabin.
Acie and Dola were hardworking farmers, daylight to dark, never enjoying the modern conveniences, now taken forgranted.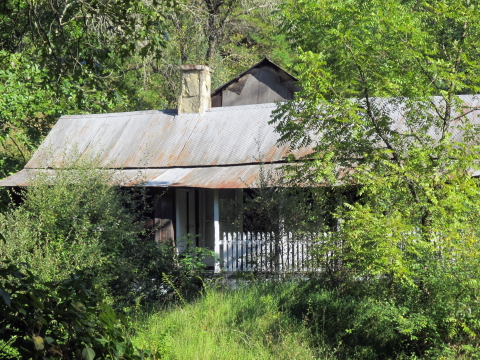 The woods are closing tight on ole dwelling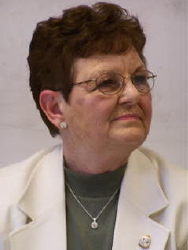 Carlene Nicholas Frederick (left) said, "The house was heated by a wood burning fireplace and cook stove, with no electric until latter years. The well was on the porch and we drew it up with a bailer."
"My dad (Acie) always cut his hay by hand with a scythe and never owned an automobile," she said.
"My mother made decorative flowers from crepe paper to decorate the house and place on graves on Decoration Day."
"Times were tough, but they taught us self-sufficiency. Dad resoled our shoes. During World War II we picked milkweed pods to help the war effort."
"They taught us principles, if we worked hard and pulled together, we'd make it, including the Golden Rule. Anger and lying was not tolerated."
Acie's most used quote was, "The devil is one step behind you."
Carlene, after attending the one room Bear Fork School taught by Roscoe Summers, moved out of the family house when she was 14, living two years with teachers Lizzie and Eugene Reynolds, Lizzie's son, to attend Calhoun County High School.
"Then I stayed with two of the most wonderful people in the world, Arco and Eileen McKee at Millstone, graduating in 1957," said Carlene, who then attended Glenville State before being the postmistress at Nobe for 19 years.
Frederick, who has served on the Calhoun Board of Education, said she always had a desire to be a teacher. She has been one of the county's most dutiful volunteers.
She married Dallas Frederick in 1958, they having three children, Jeffery, Nina and Kyle.
The children of Acie and Dola Parson Nicholas:
Nella Jean Yancey, Nicut
Carlene Frederick, Big Springs
Ivan Nicholas, Brohard
Thelma Frame (deceased)
Russell Burl Nicholas, Bear Run
Geraldine Blair(deceased)
Evalene Drake, NC
Carder Paul Nicholas, Orma
Connie Nichols, Bear Run
Calvin Nicholas, Bear Run
Linda McQuain, Sutton