By Bob Weaver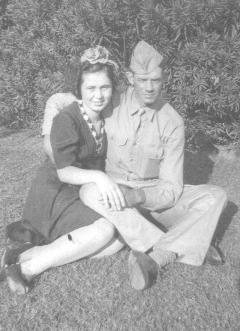 Eleanor and George McCoy during the Great War
By Bob Weaver 2002
Aunt Eleanor was about sixteen when she met Uncle George, a Calhoun country boy who went visiting relatives in Parkersburg, and the two fell in love.
George McCoy brought his girlfriend to his parent's farmhouse at Hur in the early 1940's, and she loved life in the country.
I remember her learning the art of cake and pie making from my mother and her sisters, and how to cook a country meal.
She got better over the years.
It was a time of peeling vegetables under the willow tree, sitting on those wicker chairs, butchering meat and canning, canning, canning.
The excitement in Hur was going to church three times a week, family dinners and visiting neighbors, usually by walking to their houses.
The McCoy's had one 1930's vintage truck, which made the trip to the A & P in Grantsville once a week.
Life for Eleanor was closeness to George, who she picked as her husband. In short order he went off to World War II in 1942, leaving Eleanor on the farm with her in-laws in the Village of Hur.
I have written about Uncle George's departure to the Great War in 1943, standing in the rain across the street from the old American Legion in Grantsville, watching the sadness on the faces of my mother and Aunt Eleanor as he climbed aboard the Greyhound bus.
During those war years, before I started grade school, Aunt Eleanor would take me by the hand for the dusty walk to the Hur Methodist Church, never missing a service.
I remember those fervent prayers for the return of our soldiers, as Eleanor would silently weep.
Every night the family would huddle around the battery radio listening to H. V. Kalterborn and Edward R. Murrow reporting on the war, wondering if George would return home.
He did come home to Eleanor and their life together, which ended with his death in February, 2000.
They were a devoted couple, she supporting him when his health declined, she becoming blind from diabetes and having a leg amputated after his death.
Their children, Pat and Jeanne, once residents of Calhoun County, were joyful cousins of my childhood.
It is with pleasant memory we bring Aunt Eleanor to the Hur Cemetery this Saturday, a "coming home" to where it all began, to rest beside her husband and the love of her life.
I will always remember the love, kindness and dignity she gave to all of us those many years. - November, 2002