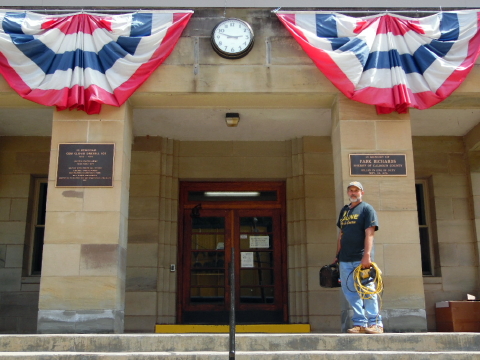 Electrician Rick Alderman completes installation of new clock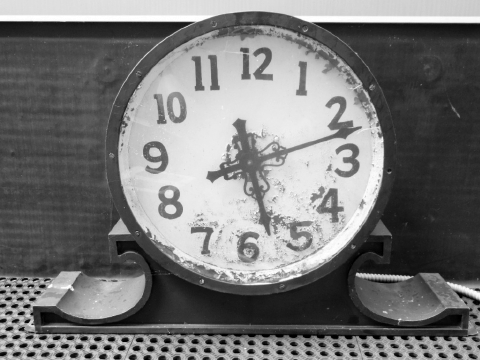 Historic clock will be sold
THE HISTORIC CLOCK FITTINGLY RESTS AT THE CALHOUN HISTORICAL SOCIETY MUSEUM
2015 - The hands of time are once more turning on a newly installed Calhoun courthouse clock, replacing an historical clock on the building's facade that quit working a few years ago.
The old clock, which has been repaired a number of times over the years, was placed on the courthouse in the early 1950s, according to old photos.
Now, 64 years later, a new clock.
The old clock, a historic relic, was donated to the Calhoun Historical Society.
CALHOUN CHRONICLE: Courthouse Clock is New Project 1951
A clock for the front of the courthouse is a new project being sponsored by the American Legion Auxiliary. The Auxiliary is planning to purchase the clock with funds they are now soliciting.
The clock is a Tambour model which has a base 40 inches long with a round drum attached which is 28 inches high over all and eight inches deep. The dial sight is 21 inches and is made of plate glass. The case is wired for illumination of the dial from the interior. The case has a trap door for changing of the lights. Movement is a 110 volt, 60 cycle single phase, self starting type, fitted with hands to correspond with the dial. It has a bronze case.
Solicitations will be asked from the business places in Grantsville and through the county. Anyone wishing to make a donation toward paying for the clock can send their contribution to Mrs. Wyatt Boggs, Grantsville, who is the chairman of the committee, or to Mr. and Mrs. Harve Davis, Grantsville.