Nearly every small community had a grist mill, essential to grinding grain into flour, meal, and animal feed. Many of the Calhoun grists were associated with country stores, although some operated from family barns and sheds.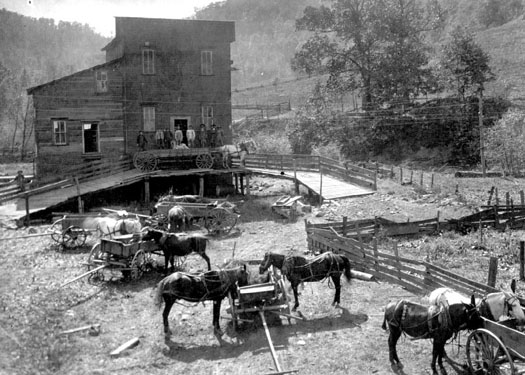 Witt Flour Mill at Minnora Early 1900's
(Photo Courtesy of Kathryn Witt Holiday)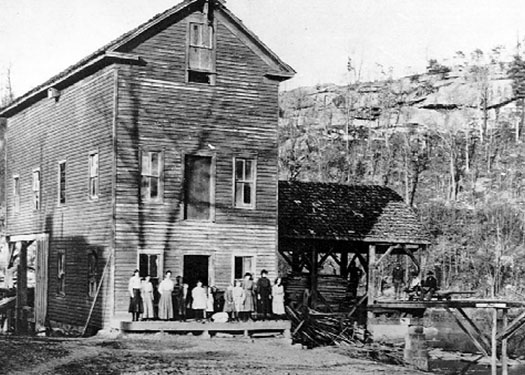 Richardson Mill Early 1900's
(Photo Courtesy of Calhoun County Historical and Genealogical Society)
By Bob Weaver
The early mills were driven by water, followed by steam and gasoline engine. Here is a list of early Grist and Feed Mills during the 20th century, as compiled by Harlan Stump of Millstone, with some add-ons.
Harlan F. Stump (grist/feed) Top of Millstone Hill, Rt. 16
John Fogle (grist/feed) Above Riffle Run, Russett
John Barr (grist/feed) Lower end of Russett
Whitt Stump (grist/feed) Old Teeter place, Russett
Corel Poling (grist/feed) Russett at junction Sycamore Road
Alexander Stump (steam grist) Mouth of Snake Root, Steer Creek
W. Elsworth Stump (grist) Apple Farm on Rush Run
Levi and Brad Gainer (grist/feed) Sassafras Ridge
Levi Barr/Teeter Family (steam grist) Big lower end of Charles Robinson farm
Zany (Zani) Yost had a grist mill at Big Springs. This mill operated until the early fifties.
John W. Sharps (water grist) Russett, below Rev. David R. Polings
John W. Sharps (water grist) Yellow Creek
John W. Sharps (water grist, flour and feed) Richardson
Battel and Blaine Poling (steam grist) Left fork of Sycamore above "the forks"
Alvin Vannoy (grist) Mouth of Wolf Run on Steer Creek
Nicholas Poling (grist) Sand Ridge
Willie Poling (grist) Mouth of Hog Run, left hand of Sycamore
Fielden Allen (grist/feed) Located at L. H. Trippett Store, right hand of Sycamore
Thomas "Watt" Everson (grist/feed) Millstone, Mt. Zion Ridge Rt. 16
Clyde Allen (grist) Nitz Fork of Daniels Run
Russell Everson (grist) Rocksdale, mouth of Henrys Fork
Peter M. Booher (steam grist) Booher Fork of Daniels Run
Arthur Offutt (grist) Head of Nitz Fork, Daniels Run
Roy Morgan (grist/feed) Altizer, mouth of Sinking Springs
"Chip" Crawford (grist) Crummies Creek
Homer Norman (grist) Beech Fork of the West Fork
Kenny Wayne (grist) Mouth of Leatherbark
French King (grist/feed) upper end of Arnoldsburg
John Cottrell (grist) Head of Frozen Run
Oscar Chenoweth (grist/feed) Nicut PO and store
Russell Carter (grist) Left Hand of the West Fork near Braxton line
Walter Farrar (grist) Walnut Run, right fork of West Fork
C. A. and Homer Witt (grist/feed/flour) Minnora, bought Huffman Bros., Grantsville
Huffman Bros. (grist/feed/flour) Grantsville
Lora Stevens (grist) Upper Pine Creek
Everett/Harley McCoy (grist) McCoy's Store at Hur
William Sturm (grist) Will Sturm Store at Hur
Harless Mace (grist) Right fork of Millstone, US 33/119
Ralph Mace (grist) Sassafras Ridge
Harley McKown (grist) Beech Fork of West Fork
Claude Jett (grist) Orma
Orville Norman (grist) Sand Ridge
Albert Poling (grist) Mouth of Rowels Run at West Fork
Braddus Moore (grist) Milo
Alvin Laughlin and George Bennington on Beach just above the Beech Church.
Homer Norman on Beech up the road just above the Wayne Cemetery.
ADDITIONS AND NAME OF CONTRIBUTOR
Homer Riddle (grist) Fairview Ridge at head of Wolf Run off Rt. 7. Submitted by Hazel Collins Knotts.
George Downs (grist?) Neck of the Big Bend (census and Boyd Stutler papers). Submitted by Norma Knotts Shaffer.
Leonard Mathess (grist) Leading Creek below Freed. Submitted by Donald Dawson.
Charter Badgett (grist) Milo. Submitted by Missy Badgett Cunningham.
Julius Mollohan (grist) Stinson. Junction of Stinson Creek and the West Fork. Submitted by William Horton.
Silas H. Simers (grist) at White Pine. Operated until 1937 when it was washed away. Submitted by Rose Grimm Campbell.
Causey Whytsell, near Liberty Hill on Rt. 33 and U.S. 119. Submitted by Leo E. Craddock.
Andrew Craddock, Adam, near Craddock School on West Fork. Submitted by Leo E. Craddock.
Henry Sidwell operated a grist mill at Booger Hole. Submitted by Denise Rexroad.
There was a grist mill at Altizer in the early 1900's. Altizer at that time was at the Edgar Lynch farm. Submitted by J. Lynch.
Lora Stevens operated a grist mill on Pine Creek up to one year prior to his death in 1981. Submitted by Lyle Kerby.
Mel Westfall operated a Grist Mill at White Pine during the 1920's through the1940's. "I visited the mill many times in my youth." Submitted by Roy Kight
Several other grist mills were at White Pine, Big Bend, Rocksdale, Ayers, Freed, among others.
Lawrence Jarvis says Lawrence Hicks had a grist mill and black smith shop across the road from the old house that washed away in high water and Ezra Metheney had a grist mill at the Clay-Calhoun line.