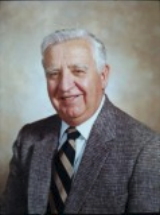 Sam Williams, 94, of Elizabeth, West Virginia, passed away on August 12, 2015 in Marietta, OH at the Arbors of Marietta.

Sam was born in Parkersburg to Belle and Norman Williams on August 18, 1920. He attended Wirt High School and graduated in 1938. Sam then went on to earn a degree from Glenville State College graduating in 1946 and then WVU where he received his MA in 1950.

Sam joined the Air Force June 1942 and became part of the China Defensive in Central Burma as an armed gunner. During his time in the service, Sam received the WW II Victory Medal, American Theater Ribbon, A-P Theater Ribbon with three Bronze Stars and the Good Conduct Medal. Sam left the military in November 1945.

During his life Sam was the Principal of Wirt High School for 10 years, Executive Head of the School District of New Matamoras for 2 years and was Principal of St. Marys High for 5 years. During this time Sam was also an active football official for both high school and college. He was ranked one of the top football officials in the Mid-Atlantic Conference. He retired in 1985 as Executive Secretary of West Virginia Secondary School Activities Commission. He loved to play golf and was also a diehard sports fan. Also during his life Sam was a 32nd degree Mason at Wirt Lodge #82.

Sam was preceded in death by his wife Jane; sisters Freda and Leisha.

He is survived by his very special friend, Margaret Palma of Parkersburg; his son David (Angie) of Elizabeth; daughter Stephanie of Beverly OH; and granddaughters Kyrie of Plymouth MA, Brittani of Oakland MD, Sydney and Reagan both of Morgantown.

Services will be 2:00 pm Sunday, August 16, 2015 at the Matheny Whited Funeral Home in Elizabeth with the Rev. Lee Williams officiating. Visitation will be Saturday, August 15, 2015 from 2 to 4 pm and 6 to 8 pm at the funeral home. Interment will be at K of P Cemetery in Elizabeth WV. In lieu of flowers, the family requests that memorial donations be made to Wirt County High School Athletics.

The family would especially like to thank the Arbors of Marietta and his four private caregivers. Their unwavering devotion and sincerity made our time with him easier and more meaningful.