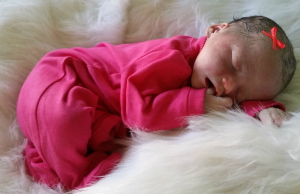 Rebecca Leeann O'Neal, newborn, passed away August 4, 2015 at Stonewall Jackson Memorial Hospital.
She is the daughter of Elbert Lee and Laura Ann Boyers O'Neal of Chloe WV. In addition to her parents, she is survived by three brothers, Hunter Petry; Tristan O'Neal and Riley O'Neal; grandparents, DeWayne and Ivy O'Neal and Dave and Donna Boyers.
Funeral services will be held at Stump Funeral Home, Arnoldsburg, at 4 p.m. Saturday, August 8, 2015 with Rev. Lester Tanner officiating. Interment will be in King Cemetery. Visitation will be held from 3-4 p.m. prior to the service.
Online condolences may be expressed at www.stumpfuneralhomes.com