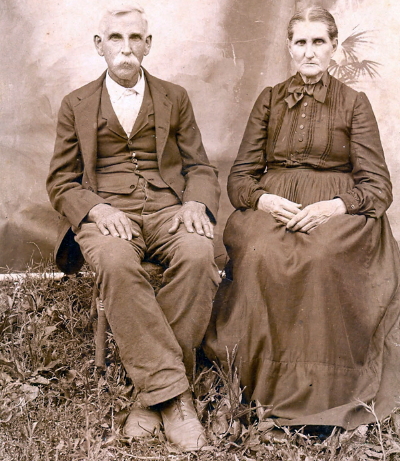 Charles G. and Miranda Brown Hughes were early comers to Calhoun's
Joker area, descendants of historical Hughes frontier family
By Bob Weaver
The Hughes family that settled near Joker, Calhoun County, were descendants of the historical Hughes clan, explorers and scouts - Jesse, Elias and Thomas Hughes.
Early comer from Doddridge County was Charles G. (1841-1917) and Miranda Brown Hughes (1843 -1914), with several of their children settling in Calhoun.
The Children:
Lemuel E Hughes (1864 - 1944)
Louisa Jane Hughes Childers (1865 - 1906)
Oscar James Hughes (1868 - 1954)
Martin L Hughes (1872 - 1917)
Tacy Ann Hughes Brown (1874 - 1926)
Emily J Hughes Cottrill (1875 - 1933)
Charles Homer Hughes (1877 - 1951)
Cynthia May Hughes Park (1883 - 1950)
The Hughes family is reputed to have been the first of European descent to enter this region around 1770, Jesse Hughes later settling in present Roane County.
Michael Stump II married Sarah Hughes in 1763, important for the area of central West Virginia because Sarah Hughes was the sister of the famous frontiersman Jesse Hughes.
The Hughes' explored and recorded this region, naming many places, and its likely that the Hughes River is named for them.
Jesse Hughes was a notorious Native American Indian killer.
SEE LIFE AND TIMES OF JESSE HUGHES Charles Hughes' son Oscar James "Ott" Hughes (1868-1954) married Lavina Elizabeth Roberts Hughes (1881-1963) in 1901, spending their life in the large two-story house, an original part being log, the farm having numerous outbuildings. Although long vacant, the house and buildings are still standing in 2015. Oscar's son, Cecil, finished his life on the farm.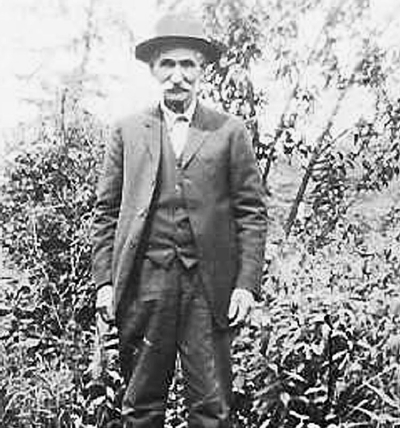 Oscar James Hughes and his father James built Joker
house and farm on Hughes Fork where he spent his life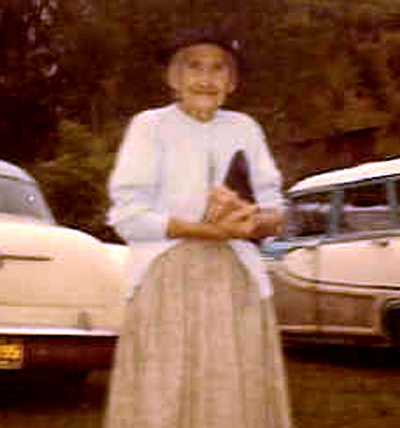 Lavina Elizabeth "Lizzie" Roberts Hughes, wife of Oscar Hughes
Oscar James "Ott" Hughes' children, Cecil Hughes of Joker, Oral Hughes of Charles Town and Ersel Hughes of Little Rock, Arkansas and a daughter, Opal Deem Miller of Joker, all deceased.
A HUGHES FAMILY SCRAPBOOK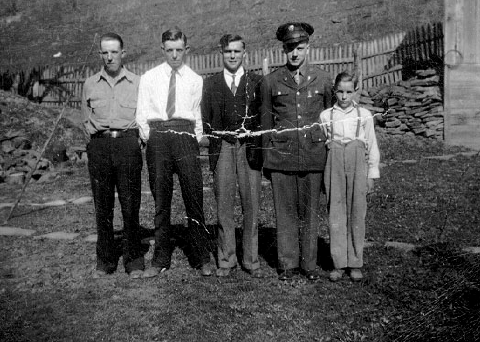 The Hughes Boys near Joker 1942 (Left to Righ) Leo Hughes,
Orval Hughes, Manzel Hughes, Denzil Hughes, Jesse Hughes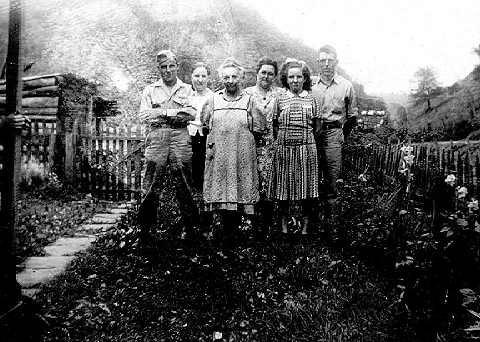 Homer and Ocie Gainer Hughes Family 1946 (Left to
Right) Manzel Hughes, Faustine Hughes, Ocie Gainer
Hughes, Dollie Miller, Ellen Hughes, Orval Hughes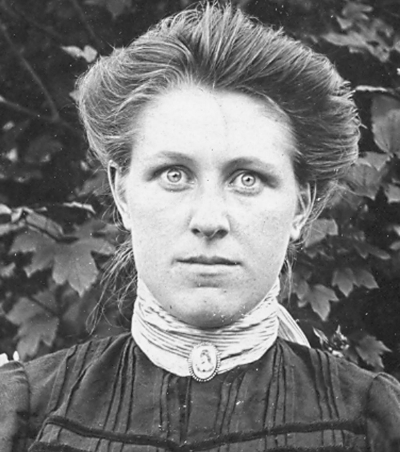 Cynthia Hughes, daughter of Charles G. and Miranda
Brown Hughes, wife of Era Park (early 1900s)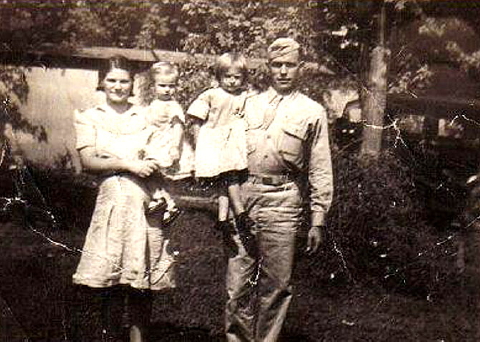 Mansel and Hazel Starcher Hughes Family about
1944 (Left to Right) Hazel Starcher Hughes,
Carolyn Hughes, Mary Hughes, Mansel Hughes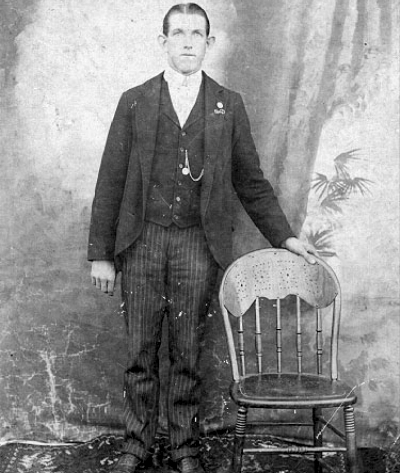 Homer Hughes, early 1900s
See other Hughes photos under Photo of Day
SEE HUGHES FARM RECALLS AGRICULTURAL DAYS
HAVE A LITTLE TIME ... FOR JOKER
HISTORIC BESSEMER NATURAL GAS ENGINES DOT LANDSCAPE - "A Slungin' Workhorse"