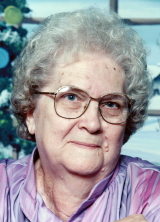 Thelma V. Null, 91, of Elizabeth WV passed away July 11, 2015 at home surrounded by her loving family.

Thelma was born, April 23, 1924 in Oil Rock, Wirt County WV, the youngest of 13 children of the late Charley D. Valentine and Estella Dawson Valentine. Thelma was the last surviving member of 13 children.

She was a 1942 Graduate of Wirt County High School, and was a member of Big Island Run Baptist Church for 78 years.

Thelma dearly loved her family, they were the light of her life. She always had words of encouragement, and praise. She truly set the standards for which a wife, mother, grandmother, aunt, and friend should be.

She enjoyed cooking, gardening, canning, reading and collecting bells.

She is survived by her children, Sandra Null Wright (Wayne), Darrell L. Null (Rhonda), Michael C. Null all of Elizabeth and Carolyn Null Foggin of Waverly WV; grandchildren, Gini Wright, Shonnette Null, Michael A Null (Katrina), Monica Beane (Sterling), Kari Huffman, Michele Butcher, Issac Lee Null; great grandchildren, Victoria, Corissa, and Mercedes Quick, Devin and Danielle Butcher, Price Beane, Jason and Mary Huffman.

In addition to her parents, she was preceded in death by her husband of 50 years, Orvel Lee Null who passed away in 1995; an infant daughter; 8 sisters, Mary, Lattie, Della, Sylvia, Clover, Martha, Nellie, Violet; and 4 brothers, Johnny, Pete, Jack and Ray Valentine.

Services will be 1:00 p.m. Wednesday, July 15, 2015 at Matheny Whited Funeral Home of Elizabeth WV with the Pastor Tim Valentine officiating.

Visitation will be 2-4 and 6-8 p.m. Tuesday July 14, 2015 and one hour prior to the service on Wednesday. Interment will be at Pine Twist Cemetery of Elizabeth WV.