IT WAS AN AMAZING FEAT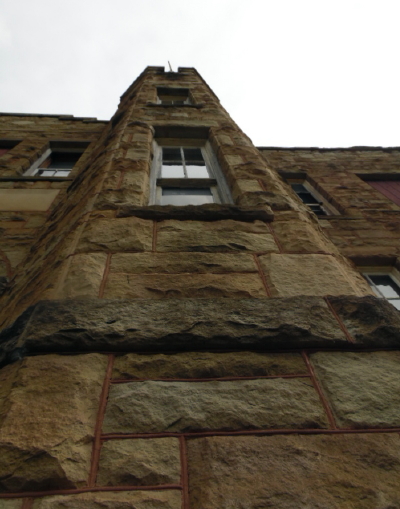 "Human Flies" climbed the stone towers
and walls of old Calhoun High School
By Bob Weaver
In the 1950s a man came to the old Calhoun County High School, contacting principal Roy J. Stump, wanting to demonstrate his talent as a "human fly," saying he could scale the twin towers, long the iconic feature of the building.
I recall it as an impromptu event, the man asked for donations from the student body for his daring feat.
Principal Stump dismissed the entire student body to the front of the school to watch the feat, a situation that would never happen in today's world because of thick rule books.
The short, muscular man, using only his hands and feet shinnied-up the tower, and when he arrived on top, he did a head stand.
The students cheered and applauded his fearlessness.
It really was quite a feat.
Retired Calhoun High teacher Don McCartney, recalled how he got the nickname as the "human fly," an oft told story in the community.
McCartney had a basement classroom, and the students in the classroom above got really rowdy in the absence of their teacher.
"It sounded like a bowling alley above me, and I couldn't teach," he said. McCartney climbed out his basement window, shinnied-up the cut-stone wall of the school to the upstairs classroom.
"It was a pretty good drop down. I peeked through the window and told them to quiet down. They didn't, so I pulled myself into the classroom."
One of the students asked, "Where did he come from? They knew I meant business then. After that they called me the Human Fly."