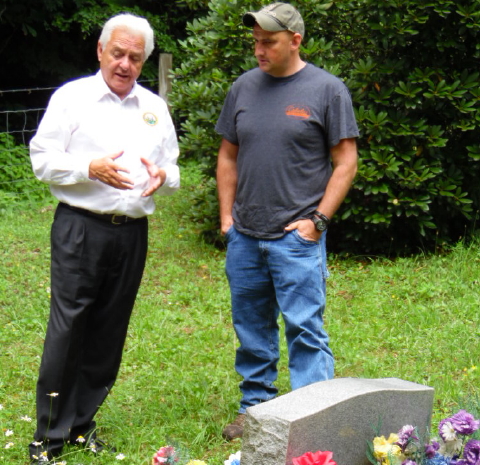 WV Ag Commissioner (left) given tour of Calhoun
roots by Calhoun Commissioner Kevin Helmick (right)
By Bob Weaver 2015
West Virginia Commissioner of Agriculture Walt Helmick and sons Brian and Tim came to the Calhoun hills last week to dredge their family origins.
They met with County Commissioner Kevin Helmick and members of his family, Dennis, Catherine, and Cody Helmick to tour the land where Helmicks settled in Washington District in the early 1800s, and cemeteries where many of them repose.
Walt Helmick said, "My folks were from here, and its been fascinating to walk around in the woods where they lived, and visit with my relatives."
Kevin Helmick took the Agriculture Commissioner to the head of remote Upper Big Run where several of the families settled and farmed near the long gone Village of Eden.
The Helmicks were contemporaries of the Chennoweth family and several other families, some coming from Randolph County.
See CALHOUN'S GARDEN OF EDEN - Aristotle Smith "King Of West Fork Eloquence"
Abraham Helmick (1787-1861), first comer to Calhoun is mentioned in Col. D. S. DeWeese's book "Recollections of a Lifetime," saying "Abraham, a man in his day that was a great sport and kept things lively. He lived to be an old man leaving a large family."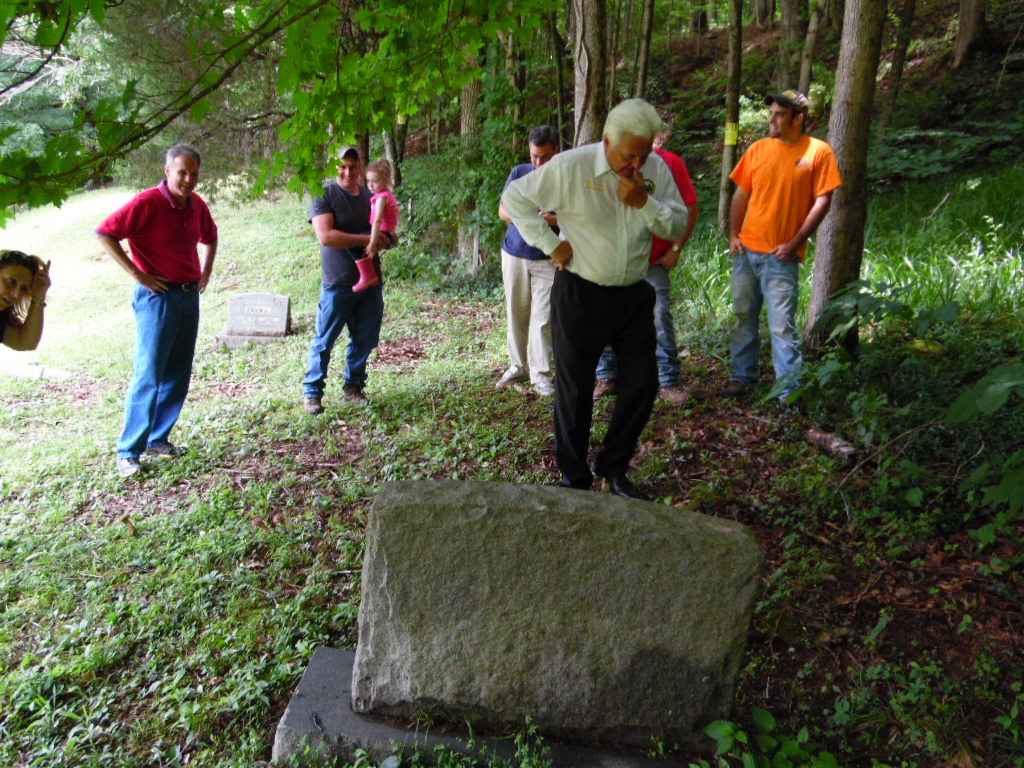 Helmick clan visits Walnut Cemetery
Abraham married Dr. George Connolly's daughter Fair Sabra Connolly(1800-1866), and for a time lived at the Capt. A. Knotts place, said Deweese. Both are buried at the Prudence Chapel Cemetery at Minnora.
Dr. Connolly was an early settler in Washington District before 1815.
Among Abraham and Fair Sabra Connolly's children, Abraham White Helmick (1822), Hudson M. Helmick (1832), Anna E. Helmick (1834), Margaret Helmick (1835), John Helmicj (1837), Jacob Helmick, and Nancy Helmick.
They are buried in the several cemeteries in the area, including the Metz Cemetery on Upper Nicut and the Walnut Cemetery on Walnut.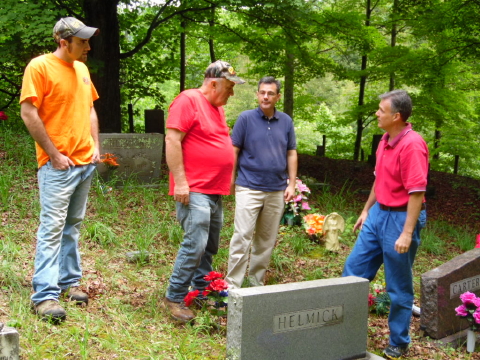 (L to R) Cody Helmick, Dennis Helmick, and Walt Helmick's
sons Brian and Tim at Upper Nicut Metz Cemetery
WV Ag Commissioner Helmick was elected in 2012, a Webster County native who graduated from Webster Springs High School and earned a B.A. Degree from West Virginia Institute of Technology, a graduate of the University of Oklahoma Economic Development Institute, Hobart Technical Center, Lincoln Welding School, and Mendenhall School of Auctioneering.
He taught at Pocahontas County High School before being elected to the Pocahontas County Board of Education and served nearly 10 years as President of the Pocahontas County Commission.
Advancing to the state level, he won his bid for a seat in the House of Delegates where he served one year before being appointed to fill an unexpired term in the West Virginia Senate.
As a member of the Senate for several years, he held several leadership positions, including eight years as Chair as of the Finance Committee.
Helmick has also been active in the business community as owner of H & S Welding Supply, Home Health Supply and Snowshoe Ski Resort's Mountaintop Athletic Club. He operates a natural spring water bottling company on his 200-acre farm in Minnehaha Springs.