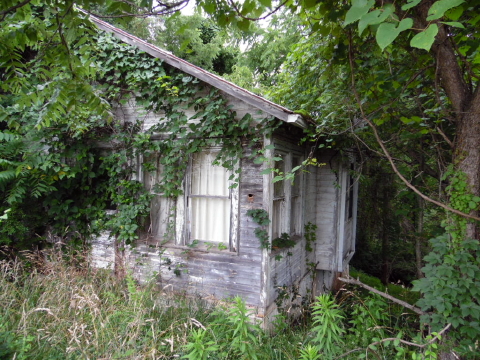 The woods have taken over Sturm house,
the Hur Telephone "switch office"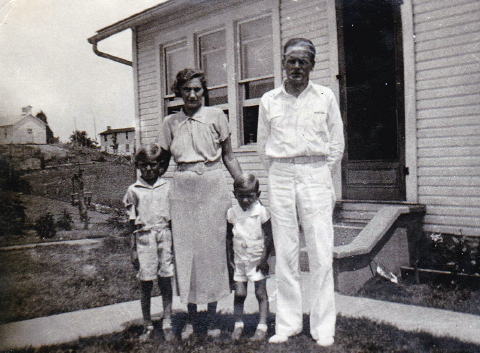 Switch operator Leona Sturm with husband Holly Sturm,
(circa 1930s) who died at 33, shown with children
James and William, daughter Carolyn not shown,
the Mt. Olive church and Ida McCoy house in background
By Bob Weaver
This old Hur WV house, the home of Leona Casto Sturm (1904-1996), housed the Hur Telephone Company for a number years, that dutifully connected the callers 24/7 on the crank'em up system that operated on a single wire strung along the roads and through the woods.
Leona married Holly Sturm, son of the founder of the Hur Telephone Company William J. Sturm (1871-1949) in 1928, and moved to the village. Holly Sturm (1905-1938) died at the age of 33 from illnesses, leaving his wife with three children to raise.
The phone system was established just after 1900.
Leona's father-in-law William J. "Will" Sturm, who was a Democrat leader, county assessor and owner of the Hur People's Store and grist mill for half a century, helped built a house for Leona and she operated the "switch office" through the 1930s to the early 1950s.
She was a remarkable hard working woman, a real lady, who somehow managed to raise her three children and put them through school, while they attended the Mt. Olive Methodist Church.
Subscribers weren't suppose to call between 10 p.m. and 6 a.m., to give the operator a rest.
The Hur Phone Company had lots of subscribers, second to Grantsville, extending from the village to Annamoriah, Creston, Cremo, Richardson, Egypt Ridge, Pup Run and Rocksdale, in addition to more local areas like Barnes Run, Rowels Run and Joker.
Many customers shared their line with up to 25 others, all having a distinct ring, like a long ring and three short rings or five short rings and a long ring.
But most everybody would pick-up, despite the party being called.
When the single line would be broken, including the trunk line to Grantsville, neighbors would walk the line to make a repair.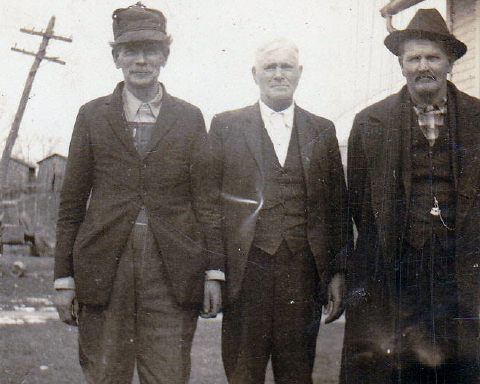 L to R: Brothers Jake Sturm, Amos Sturm and phone
company founder and storekeeper Will Sturm (circa 1930s)
The listening in was called "eavesdropping," but most customers had a switch to cut the battery use while being curious .
During the last days of the system just after 1960, the dues was about $16 annually, with the antiquated system making a quantum leap to a dial service, although customers were still on party lines.
Sturm's family members operated the "switch office" for nearly 50 years in at least three locations during 50-60 year run, while maintaining the People's Store in the village. Eula Smith Parker of Hur operated the "switch" for a few years, Lona Sturm Starcher, Will Sturm's daughter completed the run in the early 1960s, a quantum leap to dial service.