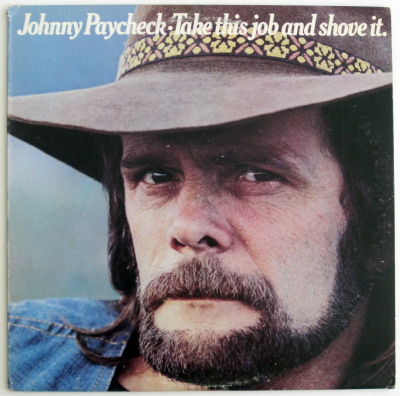 By Bob Weaver
One of the most relaxing (and free) entertainment treats while living in Wheeling in the 1990s was the Wednesday night performances at "The Wharf" on the riverbank of the Great Ohio River.
The concrete outdoor amphitheater faced the rolling river at the very edge, with local and regional performers entertaining.
My family and friends made it a habit, and once a year the Wheeling Symphony would perform.
It was happenstance we were sitting by a middle-aged man and his friend, the man gasping for air, obviously suffering from a chronic respiratory problem.
His friend, with whom we were acquainted, introduced us to country performer Johnny Paycheck, whose biggest hit was "Take This Job And Shove It."
Paycheck was born Donald Eugene Lytle (1938-2003) in Greenfield OH, and was in Wheeling to visit some recovering alcoholic friends.
His musical career was linked to outlaw country and honky tonk music, and was a member of the Grand Ole Opry.
Paycheck spoke about his hard-drinking and drug abusing life and how it had physically and mentally destroyed him, saying "But I'm still erect." He recalled his legal problems that caused him to serve a prison sentence. One of his songs: "Me and the IRS."
By that time in his life, he was a recovering alcoholic and a member of Alcoholics Anonymous.
He had gotten his start with another famous county music drinker George Jones.
That evening at "The Wharf" a teen-age Glen Dale WV school boy was hanging around, hoping to get a chance to play a tune.
His name was Brad Paisley. He was a regular.
It was never a thought the amiable kid would become a famous country music star, and he did play with the symphony,
Paycheck said of his status, "To me, an outlaw is a man that did things his own way, whether you liked him or not. I did things my own way," while at the same time he was redemptive with his comments, and proud he had put the plug in the jug.