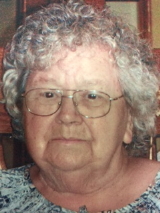 Helen C. Johnson, 97, of Big Springs, WV passed away at Stonewall Jackson Memorial Hospital, Weston, WV, on Sunday, May 31, 2015.

She was born on September 2, 1917 in Jamesport, NY. She was a daughter of the late Martin and Victoria Zelinski Gatz. She loved quilting, canning, and gardening. She attended Little Sandy Church of the Nazarene in Bruceton Mills.

Mrs. Johnson is survived by her children, Elizabeth Motz of Big Springs, WV and Stephen Johnson of Ft. Myers, FL; 11 grandchildren; 14 great-grandchildren; 3 great-great-grandchildren; sisters, Mary Tasseni of Staten Island, NY and Dorothy Duzack of Portland, CT.

In addition to her parents, she is preceded in death by husband, Charles A. Johnson, Sr.; son, Charles A. Johnson, Jr.; daughter, Rosalie Livesay; 10 brothers and sisters.

Funeral services will be held at Carl R. Spear Funeral Home, Bruceton Mills, WV, on Wednesday, June 3, 2015 at 6 p.m. and Thursday, June 4, 2015 at 10 a.m. Interment will be in Pisgah Cemetery, Pisgah, WV.