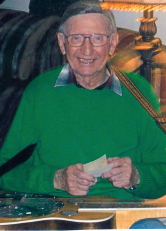 Guy Paul Fleming, 95, of Arnoldsburg, WV passed peacefully at his home on Sunday, May 24, 2015.

He was born February 26, 1920, the eldest of three children of the late Lewis Guy and Mona Parsons Fleming of Orma, WV.

Paul was an Army veteran, serving from 1941-1945 in North Africa and Italy with the 62nd Signal Battalion. After returning from World War II, he teamed with his brother to develop an auto repair and welding service business and they opened Fleming Bros. Garage in 1947.

In 1955, Paul partnered with his father and brother to form Fleming Oil & Gas Company, providing oil and gas drilling services in central West Virginia. His varied experiences also included working in the experimental division of Ford Motor Company in Dearborn, MI, and owning and flying his own airplane.

He later used his considerable skills to troubleshoot electrical, HVAC and transportation issues for the Calhoun County Board of Education and school system.

In his community, he was instrumental in helping launch the West Fork Community Action and the West Virginia Molasses Festival, and was a 50-year member of Eureka Lodge No. 40 A.F. & A.M.

Paul was also a musician who enjoyed singing, playing the flat-top guitar and dobro, and recording traditional country, gospel and bluegrass music, ultimately hand-crafting a dobro guitar for each of his children.

He was a quiet man and loving father who could fix anything for anyone and wore a cap better than most. Paul was preceded in death by his wife of 71 years, Glenna Opal Stalnaker Fleming, his brother, John C. Fleming, and his parents.

Surviving are his children: Ron (Pam) Fleming of Walker, WV; Sue (Mike) Haymaker of Bluefield, WV; and Cheryl (John) McKinney of Glenville, WV.

Also surviving are three grandchildren: Angela Ellis-Miller of Huntersville, NC; Dee (Garald) Cottrell of New Bern, NC; and Ronnie P. (Valerie) Fleming of Parkersburg, WV; two step-grandchildren: Brian (Christy) Haymaker of Bellingham, WA; Melanie Haymaker of Athens, WV; six great-grandchildren, five step-great-grandchildren, three great-great-grandchildren, and four step-great-great-grandchildren. He is also survived by one sister, Marian (Larry) Mitchell of Thurman, OH and several nephews, nieces and cousins.

The family extends heartfelt thanks to all the caring medical, pharmacy, and hospice personnel and, especially, to Paul's loving in-home caregivers.

Funeral services will be held Thursday, May 28, 2015, 1:00 pm, at the Taylor-Vandale Funeral Home in Spencer with Rev. Loren Price officiating and military honors presented. Interment will follow in the Fleming Family Cemetery at Orma with Masonic graveside rites.

Friends may call at the funeral home from 5:00 - 8:00 pm Wednesday and one hour prior to the services Thursday.