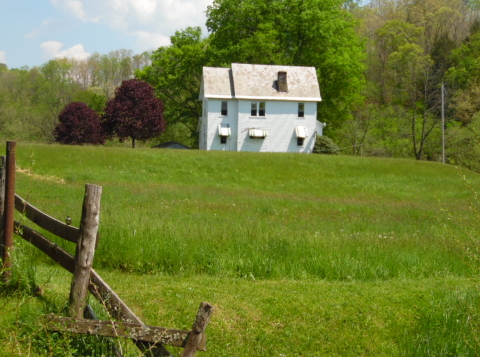 Historic Bennett house (1894) on Rt. 7, along
Steer Creek at the mouth of Bed Bug Run
By Bob Weaver
The Bennett house, built in 1894 along Steer Creek between Russet and Stumptown, stands today as an austere historical structure, with its original design and ornamental detail in tact, including its original slate roof.
The house was built by Gilmer County attorney Nelson M. Bennett (1843-1900), who is credited with helping establish Glenville (Normal) State College in 1872. He lived most of his life at W. Main and Walnut Streets in Glenville before constructing his home on Steer Creek, having lived in it only six years before his death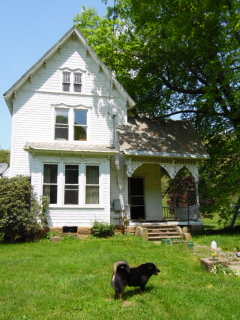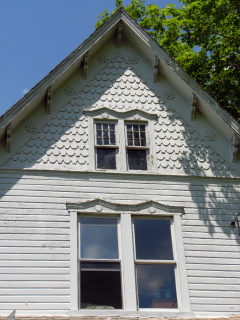 Steer Creek view of Bennett House
Ornate decor on second floor
Bennett was a well known lawyer in Gilmer and surrounding counties and appeared before the WV Supreme Court, highly noted for his ability as a chancery lawyer, never accepting criminal cases.
The house was built on a 800-acre tract, the historical Bennett family once owning over 20,000 acres of land - the "Bennett Lands - much of it known locally as the Bear Fork Wilderness.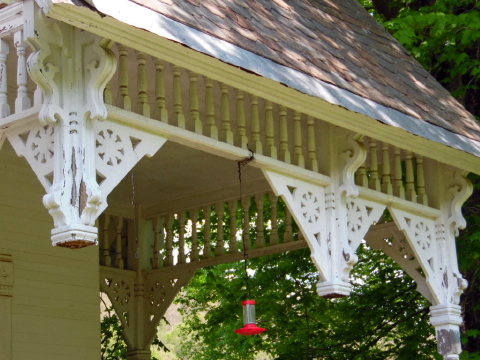 Original wood carvings on river-view porch
His death in 1900 was from highly contagious small pox, an newspaper account saying "The disease was brought to Gilmer County by a Mr. Bush."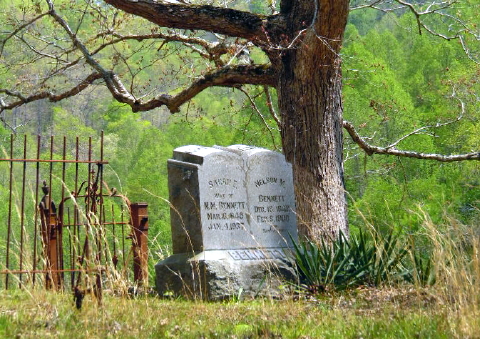 Bennett, his wife and other family members
repose nearby in the Bennett Cemetery
Family accounts said a traditional funeral was not held for Bennett related to a fear of the disease spreading and he was taken to the Bennett Cemetery, on a hill near his house, for burial at midnight.
Nelson M. Bennett was the son of John (1816-1875) and Cynthia Stump Bennett (1817-1876, she being the daughter of one of the four Michael Stumps who settled in the Steer Creek area.
Bennett married Sarah Rutherford (1845-1933), the daughter of Philip and Emzey (Stout) Rutherford in 1863.
They had 13 children.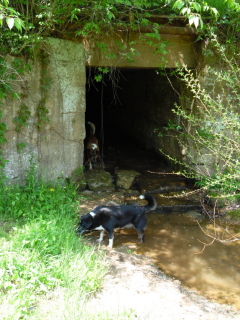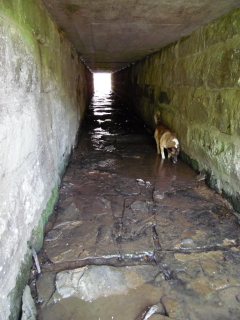 Early cut-stone constructed tunnel
under Route 7 near Bennett House
After Mrs. Bennett's death in 1933, at a point in time, the house was owned and occupied by Dallas and Daisy Stump, who sold it to Ed and Mary McCartney Bowe in 1965, she the daughter of the late Sylvanus and Alice Goff McCartney.
Ed Bowe purchased the property after he retired from the Navy, having served in World War II, the Korean War and Vietnam. The house is still in the Bowe family.
The 13 Children of Nelson M. and Sarah E. (Rutherford) Bennett:
Senthia Ruhala "Rue" (1866) married Isaac M. Hinzman in 1888, Gilmer County.
Emma Ellen (1868) married Charles H. Miles in 1890, Gilmer County.
Robert F. (1870) married Amanda Mathews in 1903, Gilmer County/
Ralph Walker (1873) married Flora A. Stump in 1895.
Nelly Gay (1875) married Remley "Dock" Stump.
Ernest Rutherford (1877) married Idesta Poling in 1898, Calhoun County.
Myrtle Alma (1879) married Vernando "Buster" Boone, Calhoun County.
Frank Byron (1887) married Hallie Stump.
Minnie Robena married Clarence Stump
Mary Ina (1883) married Whitney Stump.
Two children, Emsy Alice and Fanny Virginia died in infancy.