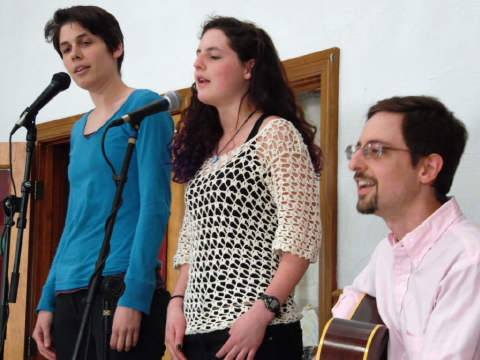 Maria Paoletti, Khymi Russell, and Jacob Howley
performed and led the Bill Howley's celebrants in
"Swimming to the Other Side," from Emma's Revolution
We are living 'neath the great big dipper
We are washed by the very same rain
We are swimming in this stream together
Some in power and some in pain
We can worship this ground we walk on
Cherishing the beings that we live beside
Loving spirits will live forever
We're all swimming to the other side
I am alone and I am searching,
hungering for answers in my time
I am balanced at the brink of wisdom
I'm impatient to receive a sign
I move forward with my senses open
Imperfection, it be my crime
In humility, I will listen
We're all swimming to the other side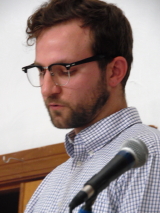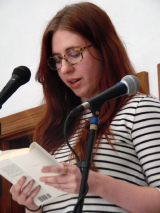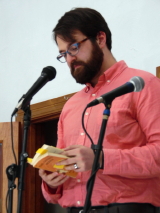 The Howley clan honor his life
On this journey through thoughts and feelings
Binding intuition, my head, my heart
I am gathering the tools together.
I'm preparing to do my part
All of those who have come before me
Band together and be my guide
Loving lessons that I will follow,
We're all swimming to the other side
When we get there we'll discover
All of the gifts we've been given to share
Have been with us since life's beginning
And we never noticed they were there
We can balance at the brink of wisdom
Never recognizing that we've arrived
Loving spirits will live together
We're all swimming to the other side
By Bob Weaver 5/2015
A memorial service for 62-year-old Chloe resident Bill Howley was held Saturday at Heartwood in the Hills, with family, friends and associates coming from all parts to celebrate his life.
In addition to a life of public service, many preferred to remember him as a farmer, a man of the sod, a keeper of the air and water.
In a letter he wrote to his family 42-years-ago, he told them he was coming to West Virginia for a vacation, not knowing he would spend his life in the backwoods.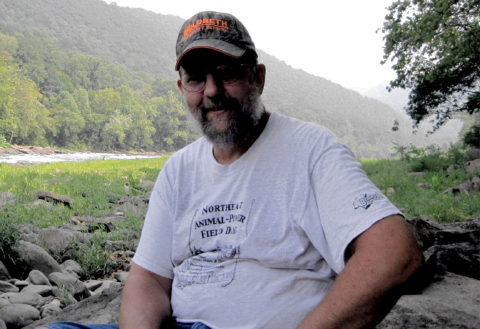 One of the celebrants said he spent his life "instructing the stars," clinging to the earth and being a public advocate over things that should really matter to people.
He touched the lives of family members, countless friends and colleagues, who will remember his passion, intellect, and humor.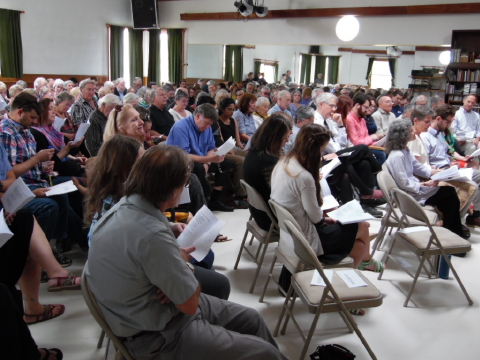 Celebrants came together, family, friends
and associates to honor Howley's life
The celebrants sang Colleen Anderson's song "West Virginia Chose Me."
"Someone's always leaving here, it's just that kind of place
It's just that kind of world today you learn to live with loss
The grass is always greener there, just on the other side
The air is always cleaner there, the sky is twice as wide
I'm not the type to argue, I won't say it isn't true
It's just the kind of place for passing through.
And a few of us are staying and it's not a point of choice
It's not we who do the choosing we are chosen by the place
And West Virginia Chose Me, sure as my own mother knows me
If I leave you West Virginia, it don't matter where I roam
I don't know where I'm going, but I know I'm coming home.
Jude Binder of Heartwood in the Hills led the celebration, which included family members reading Howley's favorite passages, playing his favorite music, while others recalled his life and passions.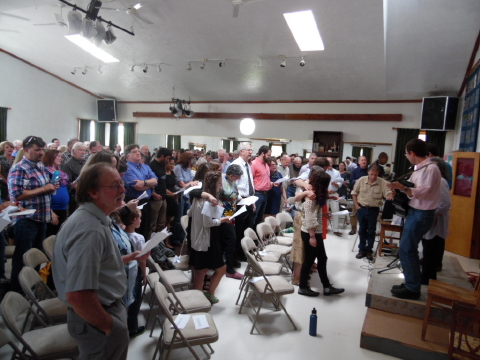 The memorial concluded with the celebrants
singing, "Will the Circle Be Unbroken."
"Will the circle be unbroken.
By and by, Lord by and by
There's a better home a-waiting
In the sky, Lord in the sky.
See BILL HOWLEY WAS PEOPLE'S ADVOCATE