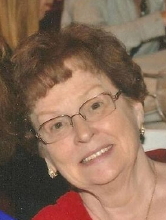 Nella Jean Bumgardner, 77, of Mineral Road, Glenville, West Virginia, departed this life peacefully at her residence on Thursday, April 2, 2015.

Born October 24, 1937 in Richwood, West Virginia, daughter of the late Harry and Ellen McClung Bess.

Nella Jean was a graduate of Richwood High School and Glenville State College, where she received teaching degrees in Library Science and Home Economics. She was the Librarian for Harrisville High School and later at Ritchie County High School, until her retirement.

Nella Jean loved to travel the world having visited destinations in Europe, Africa, and North America. She enjoyed spending time with friends and loved ones, especially her grandchildren. Nella Jean also enjoy camping, fishing, and exploring nature.

On June 17, 1961, she was united in marriage to Clarence Bumgardner, who preceded her in death on January 3, 2009.

Surviving are 2 children, Donna Bumgardner-Pugh and husband, Jere of Charleston, South Carolina, and Stephen Blair Bumgardner and wife, Jenny, of Sykesville, Maryland; 2 grandchildren, Jared and Zachary Bumgardner of Sykesville, MD; 2 step grandchildren, Kalli Robertson of Sykesville, MD and Izak Robertson of Hanover, PA; and 1 brother Cleon Bess and wife Mary of Richwood, WV.

Along with her parents and husband, Nella Jean was preceded in death by 1 brother, William Bess.

Funeral Services will be conducted at the Ellyson Mortuary Inc, 2 Vanhorn Drive, Glenville, WV; 26351 at 11:00 a.m. Tuesday, April 7, 2015 with Pastor Dwight Goff officiating. Burial will follow in the Meadow Lane Cemetery on Route 5 west of Glenville. Friends may call from 5-8 p.m., Monday evening at the Mortuary.