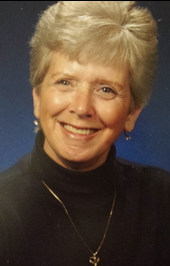 Rosalee Bailey Minney, 70, away quietly at her home on April 4, 2015 after a short illness.

She was an LPN at The Willows nursing home in Parkersburg, WV before an injury that forced her into early retirement in 2001. She enjoyed spending time at Parkersburg City Park and having meals at Mary B's.

She was a member of the 14th Avenue Gospel Mission Church, Parkersburg, where she was an angel in the Judgment House. She enjoyed reading and studying the Bible. She enjoyed helping out at Old Man Rivers Food Pantry. She treasured family gatherings and had fond memories of summers with her grandchildren.

She was a loving and kind woman who will be missed by her three sons and daughters in law, Robert D. Bailey and Anita of Leetonia Ohio, Howard Randy Minney Jr. and Mary of Athens, Ohio and Charles R. Minney and Cindy of Parkersburg, WV. And special friends Tresa and Fred Roberts of Belpre, Ohio.

She will be also be missed by her grandchildren, Jeremy Bailey, Courtney Minney, Staci Bailey, Olivia (Cody) Sellers, Holli Bailey, and Nikki (Casey) Curtiss and her only great granddaughter, Kennedy Rose Curtiss. She is also survived by her brother, Charles Frame of Texas; brother-in-law and sister-in-law, Dale and Betty Minney of Parkersburg, and numerous nieces and nephews.

She was predeceased by her parents Robert and Ada Bailey; her husband Howard Randall Minney Sr.; and 2 sisters, Naomi Montgomery and Jeannette Frame.

According to her wishes, her body was donated to the Medical Science Dept of WVU and there will be no services, but a Celebration Of Life will be held at City Park, City Park Drive Parkersburg on Saturday, April 11 from 1-5 p.m. at the shelter beside the museum.

The family wishes to thank the staff of Housecalls Hospice for the kindness and care they showed the family during Mom's illness with special thanks to Missy Whitacre, Missy Henri, Kim Snider, and Sherry Thompson.