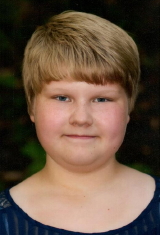 Allison Paige "Allie" Brannon, 11, of Chloe, West Virginia passed away at home on Monday, March 23, 2015.

She was born December 20, 2003 in Charleston, West Virginia, a daughter of David Neal and Tina Ann Paxton Brannon.

Allie was a 5th grader at Calhoun Middle/High School and enjoyed hunting, fishing, fashion, sewing, drawing, and singing. She loved people, collected Coach purses and Eiffel Towers, and enjoyed writing stories and taking selfies.

In addition to her parents, Allie is survived by her sister and best friend, Tiffany Ann Brannon at home; her maternal grandparents, Rodney and Patricia Paxton of Spencer, West Virginia; her paternal grandparents, Marlene and Lawrence Conley, Jr. of Chloe; several cousins, aunts, and uncles; and many friends including a dear friend, Carol Siers.

Services will be held at 1:00 p.m. on Saturday, March 28, 2015 at the Taylor-Vandale Funeral Home in Spencer with Rev. Steve Boggs and Rev. Barry Miller officiating. Burial will follow in the Minnora Cemetery. Visiting hours are Friday from 5:00 to 8:00 p.m. at the funeral home.

In lieu of flowers, the family requests that donations be made to the Calhoun Middle/High School Library, 50 Underwood Circle, Mt. Zion, WV 26151.