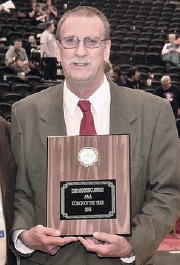 Coach Stump (left) with his most recent award as WV Coach of the Year (photo courtesy of Parkersburg News and Sentinel.

Calhoun coach and teacher Michael Stump has an historical name, related to the four Michael Stumps that came to this part of the world during the last 200 years, contributing to early development.

Current day Mike Stump has made history too.

Stump is now retiring after an illustrious Calhoun career as a wrestling and football coach.

Stump, after 28 years as a wrestling coach has produced 21 state wrestling champions, placing 124 wrestlers in the top six of their wrestling classes.

He also spent 21 years with the Red Devils varsity football team.

The awards of his accomplishments have come year after year, including being name as WV Coach of the Year at least twice, including this year.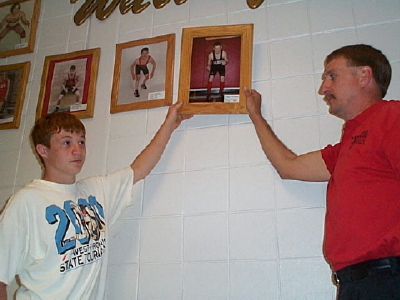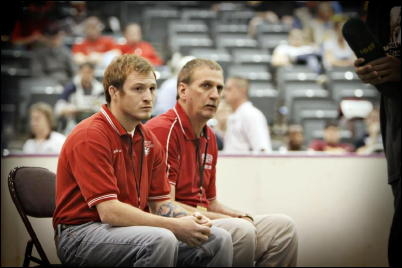 Above Stump honoring wrestler Chris Morris in
2001 and shown later with Morris being an assis-
tant coach at nail-biting tournament in 2009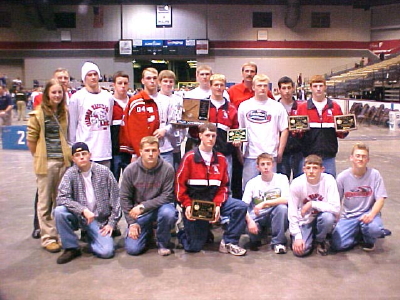 Stump recognizing 2002 wrestlers at school assembly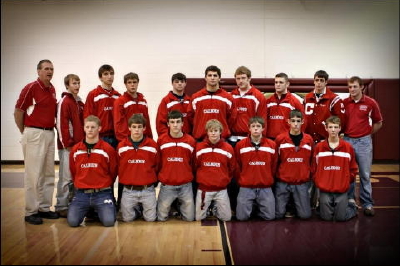 Stump with Little Kanawha Conference
championship wrestling team in 2009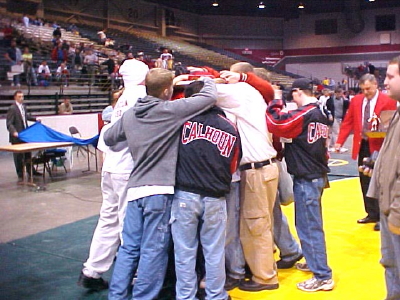 Stump surrounded by players when he was
selected in 2002 as WV Coach of the Year