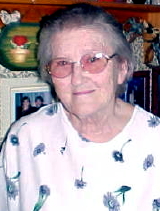 Hazel Snider, 89, of Big Springs, West Virginia, went home to be with the Lord March 11, 2015 at Minnie Hamilton Health System in Grantsville, WV.

Born in Wirt County WV on August 10, 1925, she was the daughter of the late Henry and Emily Veon. She was a homemaker and member of the Hoy Chapel United Methodist Church at Leading Creek.

Surviving are daughters Janice (Tom) Blair of Big Bend WV, Jeanie (Alfred) Hickman of Big Springs; sons James (Linda) Snider of Big Springs, Wayne (Helen) Snider of Big Springs, Donald (Linda) Snider of Harrisville WV and Timothy (Lisa) Snider of Big Springs; one brother, Arnold Veon; one sister, Mary Winland. Also surviving are 13 grandchildren and 22 great grandchildren.

She is preceded in death, in addition to her parents, by her husband Willard Snider; infant daughter Susan Snider; infant grandson Michael Wayne Snider as well three brothers and two sisters.

Funeral services will be held 3:00 p.m. Sunday, March 15, 2015 at Stump Funeral Home in Grantsville with Rev. Rick Metheney and Rev. Carroll McCauley officiating. Burial will follow in the Saunders Cemetery at Big Springs. Friends and family may call at the funeral home from 1:00-3:00 p.m. prior to the service.