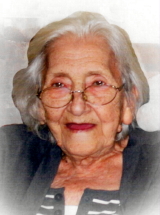 Betty Jane "Maw" Paxton, 84, of Walton, West Virginia went to be with the Lord March 7, 2015 after an extended illness.

Born Betty Jane Looney on December 27, 1930 in Walton, a daughter of the late Lessie and Lane Looney.

She retired as an aide from Meadowbrook Acres in Charleston, West Virginia.

In addition to her parents, she was preceded in death by her husband, Leslie "Nick" Paxton; two sons, Randy and Tommy Paxton; four brothers, Marvin, Aaron, James and Delaney "Bud" Looney; and two sisters, Dorothy Paxton and Lucille DiToto.

She is survived by three daughters, Terri Paxton of Walton, Anita and her husband, David White, Jr. also of Walton, and Jo and her husband, Harley Steele of Gassaway, West Virginia; two sons, Roger and his wife, Penny Looney and Ronald and his wife, Cheryl Paxton, all of Walton; two sisters, Juanita Strow of South Charleston, West Virginia, and Mary Foster of Burleson, Texas; a daughter-in-law, Robin Paxton of Walton; 18 grandchildren; 27 great-grandchildren; and many nieces and nephews.

Funeral services will be held at 1:00 p.m. on Wednesday, March 11, 2015 at the TAYLOR-VANDALE FUNERAL HOME, Spencer, West Virginia with Jonathon Harper officiating. Burial will be in the Paxton Cemetery on Paxton Ridge in Walton. Visitation is two hours prior to the service on Wednesday.