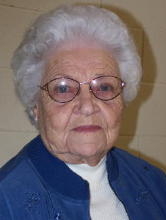 Olga B. Ferrell, 99, of Big Bend, West Virginia, departed this life on Thursday, February 5, 2015.

Born on December 21, 1915, Olga was the daughter of the late Dwight L. and Etta Helmick Meadows.

Olga is survived by 6 children, sons, Irvin (Kate) Walker and Ronnie (Betty) Walker, Big Bend WV, Jack (Janet) Walker of Grantsville WV; daughters, Janice (David) Kelly of Sistersville WV; Naomi Toler of Big Bend, and Norma (Bill) Queen of St. Marys WV; 26 grandchildren; 54 great-grandchildren; 36 great-great grandchildren; 2 great-great-great grandchildren.

Olga was preceded in death by husbands, Carl Walker and Russell Ferrell; sons, Harold Walker and Harold Ferrell; daughters, Betty Walker Holbert and Isabelle Ferrell Parsons; a sister, Opal; 5 brothers, Norval, Alvie, Vandale, Oris, and Dwight Jr.; 5 grandchildren.

Olga was an employee of Calhoun General Hospital for 16 years, but spent most of her life as a homemaker, rearing her children and 25 years as a caregiver for Russell, her late husband.

Olga was a member of the Brooksville Baptist Church.

Funeral services will be held at Stump Funeral Home, Grantsville, on Saturday, February 7, 2015 at 1:00 p.m. Rev. Barry Skaggs will officiate. Interment will be in Big Bend Cemetery. Visitation will be held Friday from 6-8 p.m.