By Bob Weaver / Jan. 2015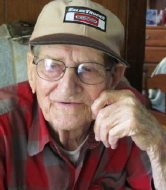 Lester McCumbers funeral was of a "different drummer" type, highlighted by a quartet of fiddle players and the music of Ivydale folk musician David Morris, who sang and played Appalachian hymns and music, honoring Lester's life.
"He was real, and he loved music," said pastor and relative Chris Stout, recalling that one of Lester's highlights was stepping out on the floor of the Ryman Auditorium, home of the "Grand Ole Opry" and playing his fiddle with music makers.
"My children called him Papa Fiddle," said Stout.
In mountain music making circles, "Lester was known all around the world," pastor Stout said, receiving the state's highest honor for accomplishment, the Vandalia award.
Those attending the funeral joined in singing "I Cannot Walk Alone," a hymn composed by another Calhoun mountain music legend, Pheobe Parsons.
Stout said Lester and his late wife Linda were married 72 years. "They found a prize in each other," he said. They were 16 when they married and had nine children.
Their families both sprung from the Bear Fork wilderness.
Stout recalled a story about the couple's marriage, when Linda asked where they were going on their honeymoon, Lester replied, "We're on it now," walking back to the house.
The 93-year-old man was a life-long aficionado of Mail Pouch chewing tobacco, the story told that one night he went out on the back porch to take a spit, which landed on the head of his son's girlfriend.
A Calhoun man running for public office stopped to seek Lester's vote, with Lester replying, "I think you've got too fancy a car for me to vote for you."
Some of West Virginia's best fiddlers and mountain music makers continued to play as those attending passed by his open casket to bid farewell, including Jake Krack, Kim Johnson, Bobby Taylor, Tracy Swartz, and Jinny Hawker, in addition to David Morris.
The funeral concluded with a poem, "If You Could See Me Now."
"If you could see me now you wouldn't shed a tear.
Though you may not understand why I'm no longer there.
Remember my spirit that is the real me because I'm still very
Much alive, I've just been set free ..."
Lester, in his quiet, unassuming way has left treasured memories.
Se CALHOUN MUSIC ICON LESTER MCCUMBERS PASSES AT 93 - "I've Lived A Simple Life, Close To The Earth, An Honest Record"