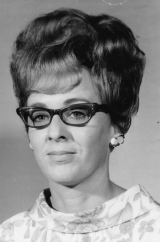 Leona T. Sinnett, 82, of Evans WV, formerly of Spencer WV, died Thursday, January 22, 2015, at the Riverside Methodist Hospital, Columbus, Ohio.

She was born at Uler, Roane County, the daughter of the late Freddie D. and Zoie R. White Tawney.

In addition to her parents, she was preceded in death by three brothers, Harlan, James and Joe.

Survivors include a son, Gary Michael Samples, Sr. of Cottageville WV; a daughter, Melanie Renee King of Mt. Alto WV; five grandchildren and 11 great grandchildren; a brother, Doyle Tawney of Newton WV.

Leona was a homemaker and a Baptist. She was a graduate of Spencer High School.

A funeral service will be held at 2:00 p.m. Sunday, January 25 at the John H. Taylor Funeral Home, Spencer, with Pastor Rick Perrine officiating. Burial will be in the Zion Hill Cemetery, Elana. Friends may call from 5-8 p.m. Saturday at the funeral home.