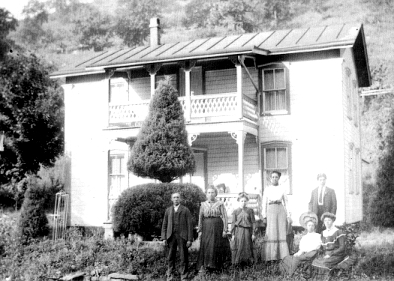 The B. S. and Rebecca Jane (Fike) Raybuck Home on Coal Fork -
Standing, left to right: B. S. (Balthaser) Raybuck, Rebecca
Jane (Fike) Raybuck, Dora Raybuck, Parentha Estella Raybuck,
Peter Cleveland Raybuck; Seated: Bessie Raybuck, Bertha Raybuck
By Bob Weaver
Balthaser S. Raybuck (1849), a native of Pennsylvania, came to Calhoun County with his wife Rebecca Fife in 1879 to the Freed community.
Raybuck is known for his patented inventions, which likely contributed to his family prospering.
He built a two story, nine room house on Coal Fork and Two Mile Run about 1880. The house rested on about 200 acres and was was built by a master carpenter and embellished with "gingerbread.
Raybuck and his wife with their first four children and four children moved from Pennsylvania in a covered wagon pulled by one old mare in the year 1879.
Raybuck is said to have had one quarter in his pocket when they arrived in Brooksville, now called Big Bend.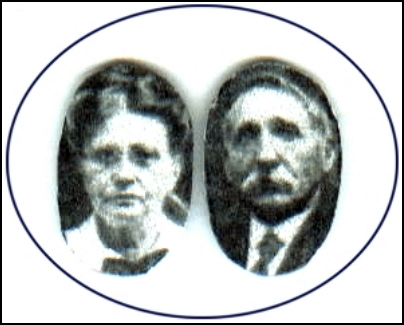 Balthaser (B. S) and Rebecca Jane Raybuck of Freed
In his work he found that having a nut and bolt with parts that cannot move when in use would to be a necessity, and invented it, but a nut and bolt that could be taken apart without damaging it.
He received a US patent on his invention in 1892.
In 1887 he applied for a patent related to force pumps.
Raybuck and his wife had eleven children, three Raybuck brothers, Albert Wilson, Edward Franklin and Reuben Ross, married Freed sisters: Frances Alvretta, Hannah Gay, and Lizzie Leota Freed.
2015