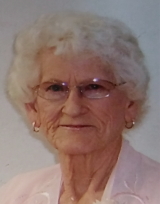 In accordance with God's plan, Cora Jean Boggs 85, of Elizabeth WV departed this life on Jan. 19, 2015, with her family at her side.

She was born October 2, 1929 in Wirt County the daughter of Charlie G. and Lillie Williams Hall.

She was a prominent Wirt County business owner of Boggs Service Station for 65 years. She enjoyed visiting with her customers especially during hunting season.

She was a 50 year member of Wirt Chapter 113 order of the Eastern Star, American Legion Auxiliary of Parkersburg WV and was a founding member of the Elizabeth American Legion Auxiliary.

Cora was a very devoted wife, mother and grandmother, who loved spending time with her family.

She is survived by her 2 children, Shirley (Charlie) McCoy and Chester Lee (Lisa) Boggs of Elizabeth WV; 2 grandchildren, Shonnette Null of Elizabeth WV and Amy McCall of Parkersburg WV; 3 great grandchildren, Kylee, Logan and Shelby of Parkersburg WV; one sister, Evelyn Copen of Elizabeth WV; and one brother, Ronald Hall of Akron Ohio; and several niece and nephews.

She was preceded in death by both her parents; her husband of 55 years Chester Lloyd Boggs; an infant son; two brothers and 7 sisters.

Services will be 1:00 p.m. Friday January 23, 2015 at Matheny Whited Funeral Home of Elizabeth WV with Rev. Robert Watkins officiating. Visitation will be Thursday January 22, 2015 2-4 and 6-8 p.m. and Friday from 9 a.m. until time of service. Eastern Star services will be held at 6:30 p.m. Thursday. Interment will be at K of P Cemetery of Elizabeth WV.