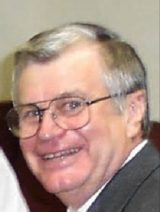 William Donald 'B-Don' Tomlinson, age 69, of Elizabeth, WV died on Jan. 13th at his residence.

He was born in New York, the son of the late Lonnie and Wilbur Tomlinson.

He spent much of his childhood with his grandparents Ruby and Don Pomroy who was like a father to him.

He grew up working with his grandfather Don Pomroy. This fostered an interest in Mortuary Science. After he spent time in the National Guard, he went to and graduated from Wayne State Mortuary Science School in 1971. He then returned home to continue the legacy at Pomroy Funeral Home. He went on to run the Western Auto and become a Boilermaker.

Don retired from local union #667 as a boilermaker. His accomplishments include Math Teacher, Emergency Service Coordinator, Student Pilot, and Amateur Radio Operator.

His hobbies included spending time in Florida boating, working on DIY (do it yourself) projects, and occupying himself with various electronics.

He is preceded in death by his wife Edith Tomlinson, and his bother Gregg Tomlinson.

He is survived by his two sons, William Gregory 'Greg' Midcap (Lisa), William Paul 'Bill' Tomlinson (Melissa); his daughter Stephanie Jane Blair (Jess); and grandchildren, Wesly McCune, Wm. Cody Tomlinson, Wyatt Tomlinson, Ethan Tomlinson, Lindsey Midcap, Megan Midcap, Remington Blair, Isaac Blair, Nathanael Blair, and Lillian Blair.

A memorial service will be held on Sunday, January 25th at Matheny Whited Funeral Home in Elizabeth at 4 p.m. with Pastor Matthew Hornbeck officiating. Friends may call on the family prior to the service from 2:30 to 4:00.