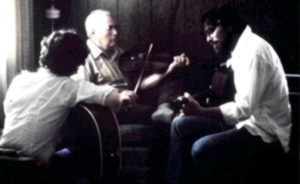 (L-R) Joe LaRose, Rector Hicks and Roy
Combs, June, 1982 (courtesy Kerry Blech)
Calhoun native and accomplished fiddler Rector Hicks of Stinson died in Akron, Ohio in 1989 at the age of 75.
Hicks was one of many Calhoun natives whose talents rose to the top with Appalachian music.
Hicks learned from fiddlers in the area, beginning to play when he was ten years old, refining his craft through hours of solitary playing and in sessions with other musicians.
He had some accomplished role models with distant cousin Laury Hicks, a generation older than Rector and one of the foremost fiddlers in the area.
The legendary Blind Ed Haley, friend and playing partner of Laury Hicks, was a fiddler Hicks watched and listened to every chance he got, before moving to Akron to get a job at Goodyear.
After his death, he was returned to his home ground to be buried in the Hicks Cemetery.
Read more about the life and music of Rector Hicks: www.fieldrecorder.com
There are many stories on the Hur Herald about Blind Ed Haley and Calhoun's exemplary mountain music makers.