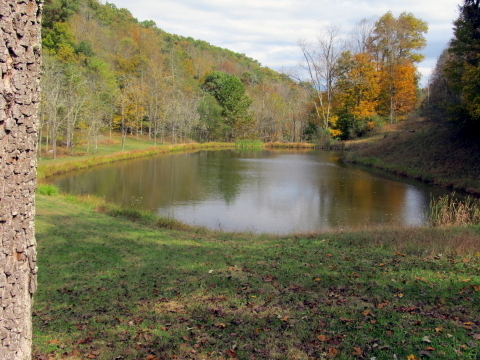 A Pine Crik Hollow Home
Former Pine Creek resident David Charles Kirby, the son of Roy and Eva Buck Kirby, recalls his life and times growing up in a remote Pine Creek hollow and in Calhoun County.
He attended a one-room school taught by his mother and graduated from Calhoun High School in 1954, with a BS degree in agricultural engineering from WVU (1959).
Professionally he is a Certified Fire and Explosion Investigator and Professional Engineer in WV, OH, and PA, having worked 22 years as Loss Prevention Engineer with Factory Mutual Engineering; 20 Years as Process Safety Engineer with Union Carbide in South Charleston; 12 years a Sr. Principal Engineer with Baker Engineering & Risk Consultants of San Antonio, TX.
He is married to the former Betty Estep of Mt. Zion, their children, sons, Dr. Kris N. Kirby, professor at Williams College, Williamstown, Massachusetts; and Gregory D. Kirby, of Parkersburg, Safety Engineer at Cytec, Willow Island, WV.
Kirby's recollections reflect life from the Great Depression to the fabulous 1960s, earlier tales can be found under People, Humor and History.
1944-1945
Monty, Libation, and Santa Claus
Mom always had a Christmas program at the one-room school house. She felt obligated to do it and the community expected it, and that was that. I hated the programs with a passion. One thing that always happened was that near the end of the program we spelled out Merry Christmas with large red letters held across our chests.
She lined us up with the tallest at the "M." I was the second "S" two years in a row. Each of us had to hold out our letter and recite a small rhyme that we had memorized fitting the letter and occasion.
On the second year at Annamoriah she could not find a Santa Claus. She had a Santa suit, and a feed sack for candy. Charlie Roberts always gave mom a pound of hard candy for each of the students, but on this occasion she did not have a Santa.
As we were on our way to school we passed Monty Kerby's, who only lived about a quarter mile below the school. He was sitting on the porch even though it was quite chilly.
He was a quiet, meek little man, and sat on the porch a lot. His long underwear and over-sized bib overalls made him appear larger than he really was. No one seemed to know much about him or what he did for a living.
Anyhow, knowing that he probably would be a silent Santa, she asked him to be Santa and told him where she hid the Santa suit and candy under the side of the schoolhouse. She had to plead, but finally he agreed to do it. She told him she would come to the door and signal for his appearance.
We started into the program with readings, etc., and the Merry Christmas was at the end. I had memorized all of the other kid's parts along with my own, but when it got to me I froze up. All that I could think of was "S" stands for shit - "rat shit, cat shit, poppy shot a bear."
Being a true believer in cause and effect I started saying something else, and Monty saved the day. With a "Ho Ho Ho" he burst through the door, sack on his back.
He started hugging and kissing all of the women, shaking hands with all of the men and pounding them on the back, and asking every last one of us kids if we had been good.
He was dancing a jig around doing more "Ho Ho's," and swung the sack around and knocked the stovepipe off the pot belly coal stove. The room soon started filling with choking coal smoke until some brave soul grabbed a coat to insulate his hands and re-attached the stove pipe.
Mom reckoned that someone had given Monty a big drink of whiskey, but he was the best Santa that she ever had.
Rough Ride
Several years later Claudie and Ronald Jeffries had gotten an old Dodge car. The tie rods were worn out, and you could turn the steering wheel a half turn without affecting the front wheels.
Claudie had picked up Ronald and they came around the ridge and cut down Annamoriah. Preacher Bud was sitting on the store porch as they went by. The roads were in pretty good shape, but they were tracked out.
Claudie got the front tires in the tracks, and when he tried to get them out he lost control. They went over a bank about 100 yards deep, and near straight up and down. The car rolled and ended up in the hollow on its side.
Bud heard the awful crash and ran to the edge of the bank where the car went over. Ronald was climbing out through the side window. He kept tromping on Claudie, who was partially caught under the seat.
Bud yelled down "Are you all right, are you all right?" Ronald was rubbing his back, and said "I think so." Claudie climbed out, started to climb back in to look for his glasses, and said "I think so preacher."
Bud said "Boys, the Lord was with you." Ronald said "Well preacher, if the Lord was with us he had one hell of a rough ride."
The Restaurant
That summer between school years we went back to the farm. Mom was the hay-stacker and, of course, Dad pitched. I would get on the stack with Mom and help her tramp down the hay. I took over as hay-stacker when I was ten years old.
Dad had a farm deferment for summer months and a war-effort deferment for winter months. In the winter he worked in Akron at the Goodyear Tire Plant.
These deferments were granted by the Draft Board. Thank goodness the Draft Board was not the School Board, or Dad would have immediately gone to the front lines.
That summer dad bought a used Model A Ford and we went to Charleston once. That was quite an exciting trip. We stayed overnight with Charlie Roberts (Mom's foster brother) and ate in a restaurant.
I'd had a hot dog or hamburger in the drug store in Grantsville, but had never before eaten a meal in a restaurant.
Claudie and the Train
Early in the fall, after we went back to the Davis's, Mr. Davis loaded all of us into his 1937 Chevrolet and drove us to Parkersburg (about forty miles).
Beyond the head of Annamoriah all of the roads were paved. It was exciting to cross the ferry at Creston. It was the first time Claudie had been to a large town, and I had one up on him because I had been to Charleston.
At one point we lost Claudie, and found him transfixed in J. C. Penny's, looking overhead at the coin changers. It was kind of neat. Instead of the pneumatic transfers that they have nowadays at drive-in banks, these coin boxes moved on a cable up a pole and across under the ceiling to where they disappeared upstairs. In a few seconds the whole process was reversed and the coin box came back to the counter. I did my own share of watching the boxes.
We went out on 7th Street and a train was crossing over the elevated bridge at 5th Street. Claudie broke into a run toward the train yelling at the top of his voice "Lookie yander at the train! Lookie yander at the train!" I had already seen a train in Charleston.
A Good Chew
Claudie taught me how to chew tobacco. Mr. Davis chewed, and bought Mail Pouch by the carton. He always kept it behind the rear seat of the Chevrolet.
I had a red wagon that was my main source of transportation. The tongue had broken off, and I had taken two ropes and tied them to the front yoke, bringing them back along each side. If I held my arms low and pulled on the proper rope it would steer quite nicely.
I had a burlap sack under my butt to soften the ride. Claudie pushed from behind.
We would sneak open the rear door of the Chevrolet, sneak out a pouch of tobacco, throw it under the burlap sack, and take off down the road at a high rate of speed. There was a slate rock cliff down the road just around the first turn, and we would pull out a chunk of the slate and hide the Mail Pouch behind it.
We would forget which rock contained the tobacco, and would have to look for a long time to find a chew. I am sure that rock cliff still contains some old tobacco.
One evening Claudie and I had run off from mom on the way home (it was about a forty-five minute hard walk) and when we came by Monty Kerby's house he was sitting on the porch.
Claudie said "Let's bum a chew of tobacco." We went through the yard and asked Monty for a chew. He said, all in one sentence, "You boys are too young to chew, I don't have any chewing tobacco, but I can give you a chew of Prince Albert smoking tobacco."
With that, he handed over a tin can of pipe tobacco. I took a big chew and put it in my jaw, thanked him, and we started down the creek.
Pretty soon I looked up and the big road ahead looked like large ocean waves. I spit out my chew, and continued on, dizzy as a duck. That is the nearest I ever came to getting sick on tobacco. I quit chewing forty years later, at the age of 47.
Billy the Goat
That fall Claudie got a pet goat. We came up with a really unique name - "Billy."
He had to be one of the cutest animals God ever invented. He was about belt high, red and white spotted, with knots on its head where horns would later grow.
He absolutely had to be around people, and would come running anytime he saw someone. He wanted to be petted, but would sneak up behind you and "butt you in the butt," hard enough to hurt.
One day he used his stump-horns and butted through the screen door, went into the dining room, jumped onto the middle of the dining room table, where we found him eating from the sugar bowl.
He actually did that a couple of times until we reinforced the bottom of the screen door. While he loved sugar, he wasn't discriminating and would eat anything.
Dad came home from Akron for a holiday and drove us back to the Davis's on Sunday evening in the Model A. You had to buy a $5 war stamp in order to drive a car.
We looked out and the goat was standing on the hood eating the war stamp off the windshield. Dad was going to kill the damn goat, and it took all of us to rescue Billy.
We kept close to the Davis's for years after I finished the second year at the Annamoriah school. One day we learned that Billy was gone, having passed away after eating three pounds of Rotenone (potato bug poison).
Whig
The war was in full swing that second winter at Annamoriah (the third year of war). The Greathouses' lost two sons that winter, and everyone knew someone that was killed.
Whig Smith and his wife Brownie lived in the holler above Earl Bell, and they got a feud going that winter over a property line. Earl's son Jim was in the Airborne, and he got shell-shocked in a battle in Holland and received a thirty-day medical furlough to recuperate.
He was walking to Annamoriah from Mt. Zion and took a shortcut down the holler through Whig's property. He probably did not know about the feud. Anyhow, Whig recognized who it was and took a shot at him, shooting the grip (suitcase) out of his hand.
Jim bolted, and nobody could find him for three days until he showed up at an uncle's house over in another community.
One day we looked out and Whig was going by on a bicycle (he never owned a car). On the handlebars rode a strange woman, and on the luggage rack was a crate of chickens.
Later we learned that he had moved the woman in with him and his wife, Brownie. Brownie was extremely retarded. Someone, as a joke, asked Brownie about the new woman and sleeping arrangements.
She said "Well, we only have one bed, so we sleep together, and he sleeps twixt us. But when they start squirming around, I 'spect it is bedbugs, I throw off the civvers and hit 'em with a fly swatter."
Tough Summer
The summer of 1944 was tough. The Model A broke, and parts weren't available. Everything was going into the war effort. Dad would walk to Mt. Zion two or three times a week and carry in groceries. It was only about three miles by taking a shortcut over the hill by the St. Paul Church, but the hill was pretty steep and it took close to an hour and a half to walk it.
We had a kerosene refrigerator. Dad once carried two five gallon cans of kerosene to Mt. Zion on his shoulders, balanced on each end of a carrying pole.
We would walk up to St. Paul Church on Sunday, and sometimes walk down to Cleo Gainer's for a visit. They had a boy my age. Sometimes we would go a week at a time without seeing another human.
More to follow ...
See DAVID KIRBY'S PINE CRIK TALES - "Smells From The Kitchen"
DAVID KIRBY'S PINE CRIK TALES - Elsworth Pulls His Tooth, "I Can Whip Any SOB"
DAVID KIRBY'S PINE CRIK TALES - "Baptizing A Worm, Claudie Davises Rat Turds"