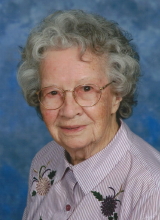 Wava "Ruth" Wright, 95, went home to be with her Lord and Savior Jesus Christ on Wednesday January 7th, 2015.

She was born on November 8th, 1919 in Grantsville, WV to parents Auzie and Lennie (Kimble) Wright. Ruth grew up with a family of four siblings; Jean, Martha, June, and Herb. Following her mother's unexpected death and father's remarriage, two younger brothers, John and Jim were added.

Ruth was a graduate of Calhoun County High School, Grantsville, WV. She soon met and married Avis Wright on June 16th, 1939. Ruth became a mother and lovingly raised one son, Stephen. Making their home in Mogadore, Ohio, Ruth was a dedicated wife and homemaker. She loved the Lord and found joy in serving her church, many years teaching Sunday school and volunteering wherever needed.

Some other of her interests and talents were baking, gardening and canning, sewing, quilting and studying the Bible. Life was busy and when her husband retired they returned together to Grantsville, WV. Ruth enjoyed these senior years, spending time with her husband, friends and family. Many hours of activity revolved around the local Senior Center in Grantsville and her home church, Enon Baptist, where she served faithfully. She and Avis touched many lives with their example of a committed 62 year marriage up until Avis' death in 2001.

Ruth later returned to Ohio where she made her home with son, Stephen Wright of Fremont. Wonderful memories remain because of precious time spent with her during those years. She was a member at Harvest Baptist Temple, Clyde where she enjoyed worshiping and singing the old hymns; her favorite was "I'll Fly Away". She was a resident of Bethesda Care Center, Fremont, at the time of her death.

Ruth is survived by her son, Stephen (Marian) Wright, Fremont, Ohio; sisters, Jean Shock of Mt Zion, WV, June Miller of Akron, Ohio; brother, Herb (Jeannie) Wright of East Tawas, MI; grandsons Adam (Kayla) Wright of Toledo, Ohio, Matthew Wright of Columbus, Ohio; granddaughter, Kimberly Wright of Fremont, Ohio; great grandsons, Ian McKinstry, Takoda Wright, Griffin Louk; great grand daughters, Lillian, Naomi, and Ivy Wright.

Ruth was preceded in death by her parents; husband, Avis Wright; sister, Martha Westfall; brothers, John and Jim.

A memorial service will be held for Ruth at Harvest Baptist Temple Church, 1022 South Main Street, Clyde, Ohio on Sunday January 17th at 11:45 a.m. with Pastor James Lewis officiating.