DICKENS TOURED TO SUNNY CAL IN DAYS GONE BY, THE ORMA THEATRE, OUTDOOR VENUES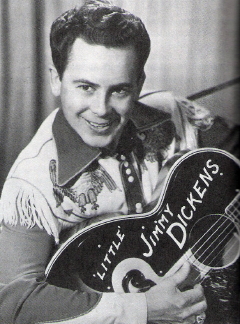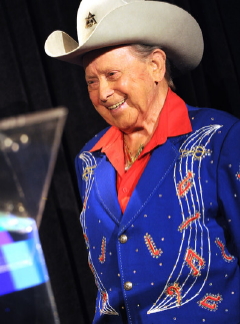 Grand Ole Opry legend Little Jimmy Dickens most famous hit was "May The Bird Of Paradise Fly Up Your Nose."
"One fine day as I was a-walkin' down the street,
Spied a beggar man with rags upon his feet,
Took a penny from my pocket,
In his tin cup I did drop it,
I heard him say as I made my retreat."
"May the bird of paradise fly up your nose,
May an elephant caress you with his toes,
May your wife be plagued with runners in her hose,
May the bird of paradise fly up your nose."
Dickens died at the age of 94 in 2015 and a memorial service for the West Virginia native was held in Nashville at the Grand Ole Opry.
Moundsville native Brad Paisley served as the emcee for the two-hour service and remembered Jimmy as a man who took chances, enjoyed life, treated people very well and found his true love in his wife of nearly 43 years, Mona.
The 4' 11" Dickens from Raleigh County frequently came to rural areas like Calhoun to perform, starting in the late 1940s, performing at the Orma Theater, the Mt. Zion Drive-in, the Log Cabin Park and various community buildings.
He made sure he shook hands with every person in attendance, saying "How'ya doin' partner," which he faithfully did on his Calhoun visits in the 1940s-1950s.
His last performance at the Opry was for his 94th birthday.
He became an Opry member in 1948 and was elected to the Country Music Hall of Fame in 1983.
Other hits include "Take An Old Cold Tater (And Wait)," "Country Boy," and "Out Behind The Barn."