By Sidney Underwood
2014

For those of you who don't know, my Father, Wayne Underwood, was a long time educator and coach at Calhoun County High School in Grantsville, WV. He died suddenly on October 26, 1967. He was 53 years old.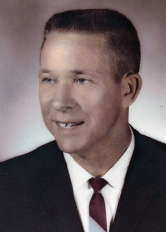 It was December of 1965 and I was employed at the Dupont Plant near Parkersburg, WV. I had just completed seven days of the mind numbing midnight shift and had come home to Cabot Station as I had several days off before returning to work.
I always looked forward to my Mother's home cooking and was tired of restaurant food and the loneliness of my $35.00 per month sleeping room on Staunton Avenue. Since this was my first paying job, I actually had some spending money of my own. Enough money in fact that I was able to make the final payments on my 1960 Corvair. I also had purchased some new clothes.
My Mother was aware of my improved financial situation and asked what I was going to get my Dad for Christmas. I replied that I had not given it much thought. I remember asking her what she thought he needed. She said his old watch had quit running and he would appreciate at new one.
She said he would never buy a good watch for himself and suggested, as only mothers do, that I give this idea serious consideration. I agreed that a watch would be the perfect gift for him and said that I would start shopping for one when I returned to Parkersburg.
Several days later, I drove down Market Street and parked near the Chancellor Hotel. At that time there were several jewelry stores in down-town Parkersburg all within walking distance. I visited all of them.
If you remember John Cameron Swayze, you should remember the jingle, "Timex, it takes a licking and keeps on ticking." Virtually every jewelry store had displays of Timex watches. Mr. Swayze was in each store, not actually there in person, but on cardboard advertisements attached to the displays.
I knew that they were good everyday watches as I owned one that had survived basic training with me, but I wanted to buy my Dad a watch that he would wear with pride for many years. After looking in several stores, I determined that the gift watch should be an Elgin or a Bulova as they were quality watches within my price range.
I remember seeing a Rolex in one of the stores that had a blue face enclosed in a gold case. It was beautifully accented with diamonds arrayed on the numbers.
Who, I wondered, could afford to buy such a watch? $4800 seemed like a lot of money to spend on a watch and that was about what I was making in a whole year at the plant. The word, ostentatious, came to mind.
Buttermore's Jewelry had the friendliest staff (a very pretty and outgoing clerk) and the best selection of watches. The young lady started laying out Elgins and Omegas for my inspection. They all looked very nice with nice high prices.
I had fading hopes of limiting my spending to $80.00 max. Inside the display case and partially hidden from sight were what appeared to be two silver Bulova watches. When I asked to see them, I was surprised that the plainer of the two carried a higher price tag. Perplexed, I inquired about the difference in them.
The clerk told me to take a closer look and I would see that the no frills watch had a genuine Swiss movement and was self-winding. The other watch, she said, had a cheaper movement.
I was intrigued by the Swiss movement and the understated look, but was not impressed with the leather band. She then showed me a display of Spiedel expanding metal bands and selected one that seemed to complement the watch without upstaging it. I decided to look no further and knew that this was the watch for my Dad. She changed the bands and I remember holding out my arm as she slipped the watch on my wrist.
I judged that if the band was somewhat loose on me, it would be just right for him. For around $76.00 I was out the door with my Christmas gift for him.
My checking account had taken a direct hit, but I still had enough money left for meals and the rent so that Mrs. Boso (my landlady) would not throw me out on the street.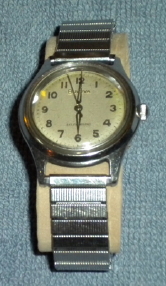 On Christmas morning, Mother and I observed Dad opening his gifts. When he gently lifted the small box that contained his new watch, I winked at her. Upon opening it, he smiled and held it up for all to see.
He set the watch and then slipped it on his wrist. When I inquired about the band, he said that it was just right. He grinned at me and said that all that shift work at the plant was now starting to pay off for him.
Somewhere in an old dusty photo album, there is a picture of him holding that watch on that Christmas Day so long ago. I recently searched for it to no avail.
When I became a state employee in November 1966, I started working in Grantsville and was welcomed back to my parent's home and my old familiar room.
Mother had started teaching again after Dad's first heart attack in 1961 and had taught at Stevens School, Rush Run, Upper Pine and was currently at the Russett Grade School.
Since she needed the car to get to work, a routine was established that I would drive Dad to the high school each morning. Thursday, October 26, 1967 started out as any other work day. Mother left first in the Chevy for Russett. Dad asked me if I was ready as he didn't want to be late for school. I recall that he was looking at his watch when he made that remark.
Looking back now, I really don't remember if we talked in the car that morning that seemed like so many others. When we crossed the bridge toward the high school, Dad directed me to turn down toward the Hope Gas complex and turn around and as we approached the intersection again, he got out and stood there and motioned me forward when the traffic cleared.
I will always remember watching him in my rear view mirror as I headed back across the bridge. I saw him walking toward the High School as he was filling his pipe.
That was the last time that I would see him alive. At 10:00 am that morning, I heard a siren in town but didn't think much about it until Mr. Lloyd Vaughn, Assistant Superintendent of schools, hurried to my office and told me that my Dad had collapsed at school and had been taken to the hospital.
As quickly as possible I hurried up to the hospital and the first person I saw was Roy J. Stump, School Principal, standing at the entrance.
He ushered me inside and directed me to Dr. Vasquez who was standing nearby and filling out papers at a desk. After I identified myself, Dr. Vasquez told me that my Dad was dead on arrival at the hospital due to a massive heart attack.
His words felt like a cold hard stab to my stomach.
I remember I stood there uncomprehending at first and then becoming upset at his seemingly indifferent attitude. It has taken me years to understand what I did not know at that moment.
Doctors deal with death all the time as it seems to follow them in their profession and they are immune to the emotional consequences of it. I will always remember that the good doctor made no attempt to soften the blow.
The following several days seemed to go by in a blur.
Friends, neighbors, relatives, students, former students and the entire educational staff at school reached out to my Mother and me. There was more food carried into our house than we could possibly eat and everyone was so kind and understanding.
It was as if Mother and I were in the eye of a constant storm of people and events swirling around us. Everyone was, in their own way, trying to help us through the period of mourning.
It was a difficult time, but we endured and prevailed. I remember that Mother sent out hundreds of thank you notes after the funeral that was held in the high school gym.
There is one moment in time that stands out in my memory. During Dad's visitation, everyone was sitting quietly in the funeral home when Jerry Stump, one of the directors, approached and handed me a paper bag that contained all the items found on his body that fateful day.
When I looked into the bag, I saw Dad's watch, wallet, pen knife, pipe and loose change. These were the last things touched by him.
It was then that I realized a person is so much more than the sum of their possessions. It is their integrity, respect and dignity that will endure and be remembered.
Several weeks passed and one day I found my Mother working in Dad's closet. Curious, I asked what she was doing when I entered their bedroom and saw clothing in boxes on the bed. She said that she had decided to give my Dad's clothing to charity.
She said that we must face the fact that he was not coming back. She asked if there was anything of his that I wanted to keep. I replied that I would like to keep his old gray jacket that I had seen him wear so many times. It was a little big on me, but I could wear it.
Since she had made the decision to give up his clothing, I thought the moment was right and inquired about his watch.
She said that I should keep the watch as he would want me to have it. But, she said there was one condition on my receiving his watch.
I was informed that I should wear it every day. Mother said that she had seen so many people accept things when a loved one dies and then put those items in a secure place never to be used.
In her opinion that would be the quickest way to ruin a perfectly good watch. She advised me to wear it until it was worn out.
I accepted the watch on that day and vowed to wear it with pride as it had so much significance for me. With tears in my eyes, I tried to articulate to her that when wearing his watch, I hoped his presence would still be with me. And at age 25 I still needed his advice and guidance.
Time has a way of passing that we hardly take notice. Days turn into weeks turn into months turn into years. True to my Mother's intent, I have worn Dad's watch almost every day since that conversation took place.
Before going to work each morning, I would pick up my car keys, wallet, loose change and Dad's watch from the dresser. His watch accompanied me whether I worked in the office or in the field; often walking where my car could not go. I gave the watch minimal protection from rain and snow, but it was exposed to the elements from time to time as was I.
Dad's watch was with me on my Wedding Day in April 1971.
It grieved with me upon my Mother's death in November 1972.
His watch was with me as I paced the waiting room floor at Calhoun General Hospital while my twin children were being born on St. Patrick's Day in 1978.
Dad's watch accompanied me when I gave my daughter away in marriage in August 2000.
I was wearing his watch when I first saw my new born grandson in May 2005.
That watch attended countless movies, programs, ball games, weddings and funerals over the years and was my constant companion.
In all that time it suffered only a scratched crystal until the spring of 1998 when it started losing time and after a month quit running altogether. I hoped that it had not finally worn out as my Mother said it eventually would.
When I remembered my Dad's surprise and happiness on that Christmas morning, I knew that I would find a way to save his watch.
Exactly three month later, I received Dad's watch back from the Jeweler who repaired it. He informed me that he had replaced several of the tiny gear sets and had cleaned and lubricated it.
He also replaced the scratched crystal for me. He said there had been a long wait for the Bulova replacement parts and the watch had been difficult to time correctly as the new components had to "mesh" with the original ones.
I gladly paid the $160.00 repair bill just to have my companion running again.
The jeweler warned me that the watch was no longer waterproof as the seal was no longer secure. He advised me to not wear it on rainy days as that would adversely affect it and the crystal might take on a cloudy appearance.
At first I took his advice seriously and was very careful about shielding the watch from moisture. But when I wore my own watch on those inclement weather days, things went wrong.
It seemed that my "bad days at work" occurred too precisely and too often for it to be just a coincidence. This was silly, I told myself, no rational thinking person would believe or accept such nonsense.
This was such a personal quirky thing that I would not discuss it with anyone lest they think that I was "losing it." The idea that a watch had the power to protect a person was preposterous.
On October 6, 2009, I was riding my motorcycle on Old St. Mary's Pike north of Parkersburg when a pickup truck suddenly pulled out in front of me effectively blocking both lanes and I thought I was going to die.
At 45 mph with me seeing the passenger side door up close and personal looking as big as a barn, I grabbed the brakes and rolled off the bike and tumbled down the ditch line.
My helmet face shield was broken by the impact, my leather jacket ripped and torn and I had lost the skin off my right knee. The back of my left hand was bleeding and I had suffered a puncture wound to my right foot that was impaled by the rear brake pedal.
Much confusion followed as an accident seems to always attract an instantaneous crowd. The first person to reach me was a man who said he had been following me down the road and had witnessed the accident.
He said that I had done everything possible to keep from getting killed and he thought that I was going to impact the side of the truck.
He said that I was extremely lucky to be alive. I was sitting up by then looking for my right shoe and left glove, both of which were missing.
I thanked him for his observation and asked if he would wait with me until law enforcement arrived so he could tell them his story. I suddenly remembered Dad's watch and hastily pulled up my sleeve.
It was ticking along just fine and had survived without a scratch. The time was 4:14 pm as I would later tell the deputy sheriff who completed the accident report.
The man who caused the accident was beside himself with worry and almost in shock as he said repeatedly that he was so sorry that he did not see me. The ironic part of this painful experience was the fact that he was a DRIVER EDUCATION INSTRUCTOR at one of the local high schools!
Did Dad's watch save my life that day? Honestly, I do not know.
Was there a mystical force in effect that gave a 67 year old man the reflexes of a 35 year old if only for a moment?
Probably not.
Would events have turned out much more tragically if Dad's watch wasn't with me? We will never know. There are some things in life that cannot be explained and I accept that premise.
I was definitely in the wrong place at the wrong time and lived to tell about it. My Kawasaki Ninja bike was totaled and came just short of hitting the truck. I remember seeing it lying in the road directly behind me still running and sounding like a wounded animal.
As of this writing, Dad's watch runs just fine.
I wear it most days except in bad weather. The soon to be 49 year old watch looks dated and shows its age by the yellowing of its face and the fact that the numbers no longer glow in the dark as they once did.
It is rather small and plain looking when compared to the "smart" watches that are so popular today and do so much more than just tell time. Bulova continues to make self-winding watches and other brands make kinetic movement watches and they retail at around $500.00.
Just the other day at Kohls in South Parkersburg, I was looking at their selection of Bulova watches. The clerk, seeing my interest, inquired if I had ever worn a Bulova watch.
I smiled and held out my arm for her to see Dad's watch as I moved on toward the men's clothing department. I had several items to purchase and Dad's watch reminded me that we needed to keep moving because we were behind schedule.