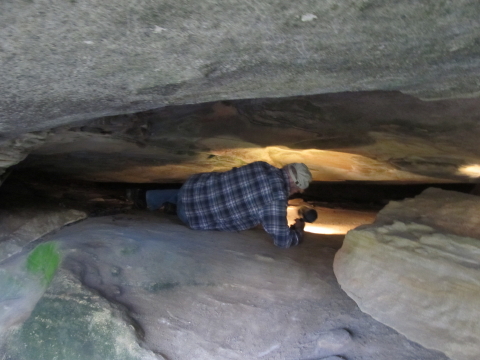 Editor Bob Weaver explores Barnes Run Cave with five year old
grandson (now ten) August Moon Weaver in 2015, August was squeam-
ish about the bats, but didn't mind crawling in all the dirt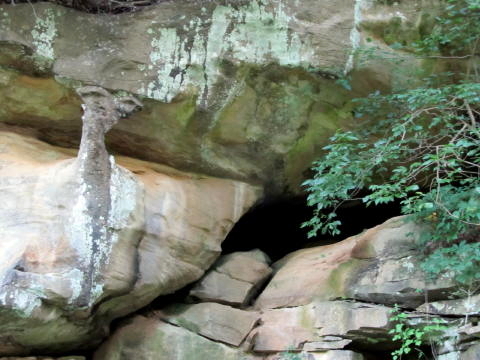 The Barnes Run cave has partially collapsed in
recent years, but it was a good crawler at one time
Caving has been a popular pastime in West Virginia since the first Native Americans descended into the "sinks" of its eastern mountains.
More than 500 caves have been explored and cataloged since, and countless more await their first human visitors.
Five commercial caverns provide guided tours, and several spelunking organizations sponsor monthly excursions.
In Sunny Calhoun, with the absence of limestone, the caves fall into two groups, the overhang cave (which isn't really a cave) and crawlers that require some honest to god bravery, tight and scary.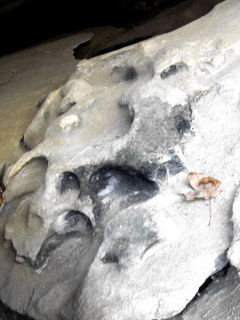 August gives a "thumbs up" on experience; rocks worn by time
Perhaps the scariest part is bats, snakes, spiders and assorted insects.
The Barnes Run cave was once inhabited by a "free-spirit" woman who no longer enjoyed life in her family abode. In recent years the roof near the entrance collapsed, making it a belly crawler, until one reaches the back spaces, where the roof is higher.
In days gone by, there was rarely enough fright to keep young men out of them on an adventuresome day.
Ashley Admire meditates at cave opening, rocks
worn by a thousand years of wind and weather
AUGUST WEAVER EXPLORES FETTYS CAVE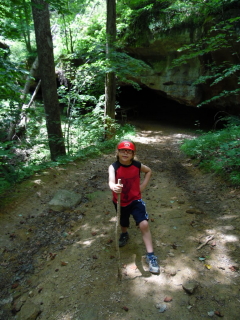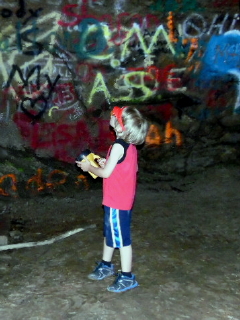 Five-year-old August Weaver explores Fettys
Cave, plagued with 21st Century graffiti,
at the edge of the Bear Fork wilderness

See also
SUNNY CAL JOURNAL - Life Without Boredom, Calhoun Caves
SUNNY CAL JOURNAL - Daniel Boone Slept In Calhoun?
CALHOUN'S FAMOUS SCHOOLHOUSE CAVE - Education In 1818
SMITHVILLE ECCENTRIC STILL HAS PRESENCE - A Visit To Burleigh McNeil's Cave
SUNNY CAL JOURNAL -The Girl In The Cave, Deficient Viewed As "Free Spirits"
A RETURN TO PAULCER'S CAVE - Remote Hollow, Thick Brush, Calhoun Backwoods
FETTY'S CAVE - Revivals, Beer Parties, And Reunions