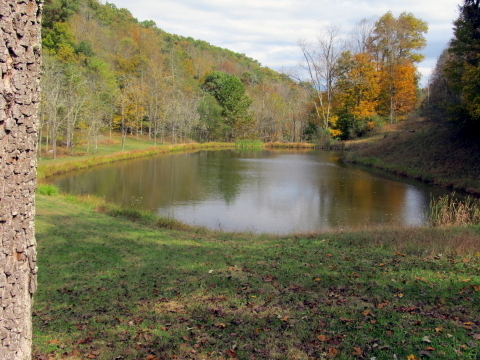 A Pine Crik Hollow Home
Former Pine Creek resident David Charles Kirby, the son of Roy and Eva Buck Kirby, recalls his life and times growing up in a remote Pine Creek hollow and in Calhoun County.
He attended a one-room school taught by his mother and graduated from Calhoun High School in 1954, with a BS degree in agricultural engineering from WVU (1959).
Professionally he is a Certified Fire and Explosion Investigator and Professional Engineer in WV, OH, and PA, having worked 22 years as Loss Prevention Engineer with Factory Mutual Engineering; 20 Years as Process Safety Engineer with Union Carbide in South Charleston; 12 years a Sr. Principal Engineer with Baker Engineering & Risk Consultants of San Antonio, TX.
He is married to the former Betty Estep of Mt. Zion, their children, sons, Dr. Kris N. Kirby, professor at Williams College, Williamstown, Massachusetts; and Gregory D. Kirby, of Parkersburg, Safety Engineer at Cytec, Willow Island, WV.
Kirby's recollections reflect life from the Great Depression to the fabulous 1960s, earlier tales can be found under People, Humor and History.
DIPPING CRUDE
Willie Little was an old committed bachelor who lived first one place, then another. Part of the time he lived at the head of Rowles Run, and Mom and I would pass his old house when we walked from the farm to Uncle Ellsworth's.
Willie was very poor and his house was really just a shack. He would find a bit of work wherever he could, as this was the time before social security or welfare or any other type of safety net, and he needed to work in order to eat.
He used a crude oil stove to heat his place and cook with. He would take the crude oil straight out of a gas well separator tank about 100 yards up the hill from his house, a fact most of us knew but that was viewed as an acceptable approach given his circumstances. The company that owned the well wanted the gas, not the crude, and only rarely came around to empty the crude and water that accumulated in the old tank.
Willie would just open the access hatch on the top of the tank, lower a bucket by a rope, and just dip out a bucketful of the crude floating on top of the water layer. He would fill up the tank in his house and be good to go.
One night Willie ran out of fuel and headed up the hill carrying a lantern to fetch a pail of crude. What Willie didn't know was that the company had pumped out the tank just a day or two before. He dipped his bucket down to where the crude should have been and came up with a dry bucket. He tried again letting the bucket go down to the end of the rope with the same result.
No problem, just need a longer rope, but how much longer? Willie decided he would lower his lantern down into the tank so that he could see just how much longer of a piece of rope he needed. Now, I already said this was a gas well separator tank, right?
Well, as you have probably guessed, Willie's lantern ignited the gas and "boom." The explosion blew the top of the tank clean off, sending both the roof and Willie for a little ride.
It was a steep hillside covered with sumac, and amazingly, Willie came down in the light brush in one piece and not much worse for wear.
The "boom" and the flame attracted everyone within earshot and eyeshot, and someone took Willie to Grantsville to see Doc Bowling, but Willie was back with a story to tell the next day. I think that he had second degree burns on his arms.
1943 TO 1944
Dad was really on the wrong side of politics in 1942, and Mom was assigned the Hog Knob School. This was at the opposite remote end of the county from us, about twenty miles away.
The War was in full swing, and Dad got a job in Akron, Ohio in a rubber plant. Mom decided not to teach and took a leave of absence. She and I started taking care of the farm. By that time we had fifteen cows, but it was no big job to feed out hay twice a day.
I started at the Pine Creek School. Two weeks into the school year, we were sitting on the porch when these people came walking up the creek. They were afraid to drive, although the roads weren't really that bad.
It was Mr. and Mrs. Davis and Mr. Jeffries. They were from Annamoriah and they needed a teacher. Their teacher, Freddy Barns, had been called up to go to the war. Claude Davis said he would give us free room and use of their kitchen if Mom would teach their school.
Annamoriah is about five miles from our farm. She agreed to do it and got Bill McIntyre to feed our cattle. We walked back and forth on Fridays and Sundays so we could be home over the weekend to check on things.
THE DAVISES
Mr. and Mrs. Davis had two kids, Claudie, age 10, and Joanne, age 12. When we moved to the Davis farm I immediately bonded with Claudie, the brother I never had. He was just great. He was skin and bones, not much taller than me. He had a hook nose, a huge Adams apple, and round steel-frame glasses. Mom said he sure must look like Ichabod Crane.
They had a dug well in back of the house with a cast iron pitcher pump that had a big pump handle. Pumping up and down vigorously several times would draw a bucket of water. When Claudie talked his Adams apple would move up and down, reminding me of the pump handle. He had a favorite saying: "rat turds, cat turds, poppy shot a bear, shot him in the ass and he never touched a hair."
He would sing that over and over to whatever tune he had last heard on the radio. Glen Miller was on the radio a lot, as was Roy Acuff of the Grand Ole Opry. So you never knew whether Claudie would repeat it at the tune of "In the Mood" or "Great Speckled Bird."
When he got excited he abbreviated by saying "rat turds, cat turds" over and over again. If really excited he would simply say "rats, rats, rats;" all the time his Adams apple would be moving up and down like the pump handle.
THE GREAT TIRE ROLL
Krowley Oil Company had big trucks that went up and down the creek, and one day a huge ten-ply tire fell off the truck. It looked brand new, except it had a huge hole in the sidewall. We commandeered it. One of the games we played was to curl up inside a tire and let someone roll you down the road. It was quite a dizzying experience, but otherwise okay unless you fell over.
You would know you were falling over, but would be too dizzy to do anything about it. One evening as soon as we got home from school, I got the great idea of taking the tire to the top of the hill above the house and turning it loose. Now this was a ten-ply truck tire, about three feet in diameter, and must've weighed fifty pounds.
It was no easy task to get it up the hill. We had to go up the holler and roll it up a haul road to the top of the hill, which must have taken us at least forty-five minutes; in later years I found we only gained about 500 feet of elevation.
We finally got it to the edge of the hill, and aimed it down the hill between the house and the chicken house. There were contoured cow-paths around the hill, and after about two cow paths down the tire veered directly toward the house. It never occurred to either one of us that the tire could wipe out the house or chicken house.
I looked at Claudie, and his Adams apple was churning up and down like the pump handle. After about four cow-paths down the tire changed direction about 45 degrees and headed directly for the chicken house.
Mr. Davis had just bought four hundred new baby chicks. The tire kept going faster and faster, bounding higher and higher, must have been going at least fifty miles an hour when it completely jumped the chicken house. It went across the bottom, jumped the creek, jumped the road, tore through a barbed-wire fence on the other side of the road, turned around on the opposite hillside, came back through the hole in the fence and came to rest in the road near where we had found it in the first place.
PREACHER BUD
That winter they had a revival meeting at the Annamoriah Church. We heard about the new evangelist preacher that was preaching up a storm, and decided to go up and hear him one evening. Mr. Davis had a car, but the roads were bad, so we walked the mile or so to the church.
I had been to revival meetings before, so I thought I knew what to expect. Bud Graham was the new preacher (no relation to Billy). He sort of traveled around, and would stay with whoever would take him in. For this meeting he was staying with Bubby Knight. Bubby drank heavily, but his wife was very religious, so I guess that is why the preacher was staying there.
Anyhow, the church was near full when we got there and so we had to sit up front. Bud started preaching with all of his clothes on (shirt, tie, suit coat, etc.) and walked around the pulpit a few times talking in a normal volume and tone of voice.
He came back by the pulpit and picked up a very large bible, raised it to arms length above his head, and came down with it as hard as he could on top of the pulpit. It cracked like a starter's pistol, and indeed that is what he intended.
Within about one hour of preaching he had stripped down to a half buttoned shirt and pants. He really was a powerful preacher. When he moved on to someone else's house he took all of Bubby's best white shirts.
Bud ended up marrying a woman in the community that already had a bunch of kids, and they had a bunch more. They had so many that he tried to sell some of them. Apparently that is against the law, and he almost got into trouble.
On one occasion Bud was fishing out of season on the Little Kanawha River (about two miles from Annamoriah). Game Warden Dick Marshall caught him, and said "Bud, what are you doing"? Bud said "Just baptizing some worms." Dick got so tickled at the answer that he let Bud go. Dick told that story to everyone.