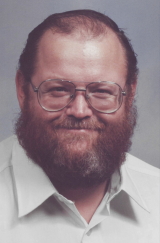 Dale Edward McFarland, age 63, passed away on Sunday October 19, 2014 at Amherst Manor Nursing Home, under the care of Sprenger Hospice.

He was born December 1, 1950 in Lorain, Ohio to the late George and Rosezena (nee Edinger) McFarland.

Dale graduated from Brookside High School and attended Akron University for 2 years. Most of his working life was spent driving 18 wheeler trucks until illness forced an early retirement.

He lived happily in Grantsville, West Virginia for 10 years, returning to Lorain area in 2012.

He is survived by his brothers Joseph (Jeanne) of Avon OH and George Lee (Gisela) of Sheffield Lake OH; sister Fern (Jim) Gallagher of Elyria OH; and numerous nieces and nephews.

He was preceded in death by his loving wife of 24 years, Sharon Faye, in 2004.

Funeral services are private and arrangements handled by MISENCIK FUNERAL HOME in Avon, Ohio. Interment is in Grantsville, West Virginia. The family would like to thank the staff of Amherst Manor and Sprenger Hospice for their compassionate and loving care of Dale.