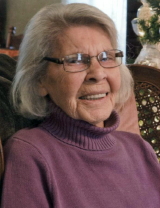 Mabel Justice, 102, of Reedy, West Virginia passed away October 25, 2014 at the Roane General Hospital in Spencer, West Virginia.

She was born June 10, 1912 in Nebo, West Virginia a daughter of the late Lanty P. and Maude Rogers Mollohan. She was retired from the Spencer State Hospital and attended the Nebo Baptist Church as a child.

She is survived by one daughter, Karen Courtney of Reedy; three sons, Ron (Martha) Postalwait of Spencer, Charles (Mary) Postalwait of Reedy, and Tom Courtney of Asheboro, North Carolina; one sister, Bonnie (Pat) Worstell of Marietta, Ohio; a half-sister, Evelyn Jarvis of Laurelville, Ohio; a half-brother, Garrett (Layne) Miller of Gonzalez, Texas; 12 grandchildren; 24 great-grandchildren; and 25 great-great-grandchildren.

In addition to her parents, she was preceded in death by three husbands, Ray Postalwait, Herman Courtney and Linzy Justice; a daughter, Mary Evelyn (Nelson) Parsons of LaVernia, Texas; five sisters, Gertrude McCune-Stout, Ruth Kun, Nell Lowe, Hallie Cunningham, and Frances Berdean; three brothers, Annis, John Lynn, and Arnold Mollohan; a granddaughter, Teresa Brewer; and an infant great-great-granddaughter, Jessalyn.

The family wishes to express special thanks for the care and kindness our mother received from everyone including those at the Miletree Center and Roane General Hospital, both in Spencer and the Camden-Clark Memorial Hospital in Parkersburg, West Virginia. A very special thanks to a very dear friend, Wanda Epler of Reedy.

Per her request, the body was cremated. Internment will be at a later date in the Nebo Baptist Church Cemetery in Clay, West Virginia.

TAYLOR-VANDALE FUNERAL HOME, Spencer, is in charge of arrangements. There will be no service or visitation at the funeral home.