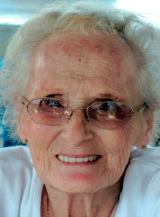 Adah "Grace" Calebaugh 85, of Waverly WV passed away Thursday October 9, 2014 after an extended illness.

She was born in Elyria Ohio the daughter of the late Joseph and Leta (Custer) Marquis.

She was a 1946 graduate of Wirt County High School. She was retired from Wood County Board of Education as a cook at Waverly Grade School, and was a 4-H leader at Waverly 4-H Club for several years. She was a member of Waverly Bethel Presbyterian Church.

Grace was very involved with her community and her church, she enjoyed Sunday dinners with her family.

She is survived by her 2 children, Michael (Suellen) Calebaugh of Elizabeth WV and Roberta "Bobbi" (Roger) Shuman of Washington WV; grandchildren, Natalie Casto, Robert (Jennifer) Morrison, Joshua (Marin) Morrison and David Calebaugh; great grandchildren, Trinity and Connor Casto and Amelia and Aubrey Morrison; and very special friends, Dave and Betty Matheny who she lovingly referred to as her second daughter and Lea Ann, who referred to Grace as "Granny Grace".

She is preceded in death by both parents and her husband of 63 years Robert "Bob" Calebaugh.

Her family wish to thank all of Grace's close friends of Waverly for their caring support over the last few years, and the entire staff of Eagle Pointe and House Calls Hospice for the care and compassion shown to Grace and her family.

Services will be 1:00 p.m. Monday October 13, 2014 at Matheny Whited Funeral Home of Elizabeth WV with Rev. Elizabeth Campbell-Maleke and Rev. Kenneth Calebaugh officiating. Visitation will be Sunday October 12 from 2-4 and 6-8 p.m. Interment will be at K of P Cemetery at Elizabeth WV.