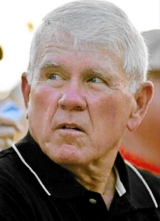 Philip Ray Shears 72, of Elizabeth WV passed away unexpectedly September 30, 2014.

He was born in Wirt County the son of the late Frank and Dortha (Dotson) Shears.

He was a 1959 graduate of Wirt County High School and attended Marietta College and graduated from Mountain State College with a Business degree in 1961. he was retired from GE Plastic of Parkersburg WV after 35 years of service.

Phil and his wife Sandy where co-owners of Mingo Bottom Golf Course of Elizabeth WV. He attended the Elizabeth United Methodist Church and was a trustee of the church. Phil enjoyed playing golf, but his greatest love was his wife, children and grandchildren. He never met a stranger and would go out of his way to help anyone.

He is survived by his wife of 29 years years, Sandy (Somerville) Shears; son, Steve (Jennifer McPeek) Shears Of Elizabeth; stepdaughter, Ashley (Alan) Wanosky of Parkersburg WV; grandchildren, Dylan Shears, Kaylie Shears, Jasmine Shears, Sara Wagoner (Joe) Burmfield, Julier Wanosky, and Gillian Leigh Wanosky; great granddaughter, Athena Brumfield; brothers, Larry (Vonda) Shears of Elizabeth and Leonard (Lee Ann) Shears of Parkersburg; and sister, Linda (Darrell) Tallman of Vienna WV.

He was preceded in death by his parents; son, Jeffery Shears, and stepson, Aaron Bland.

Service will be 11:00 am Monday October 6, 2014 at the Elizabeth United Methodist Church with Rev. Lee Williams and Rev. James Bruce officiating. Visitation will be Sunday October 5, 2014 from 2-4 and 6 to 8 pm at Matheny Whited Funeral Home of Elizabeth WV, and one hour prior to the service at the church. Interment will be at K of P Cemetery of Elizabeth WV.

Memorial donations may be made to the Wirt County High School Golf Team or the Wirt County Middle School Golf Team. Donations may be sent to PO Box 639, Elizabeth WV.