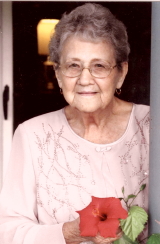 Dorothy Nichols Westfall, 96 of Spencer, West Virginia, passed away on Monday, September 29, 2014 at the Roane General Hospital in Spencer.

She was born June 14, 1918 to the late John and Lydia Collins Nichols. She was a homemaker and a member of the Mt. Olive Baptist Church and attended the Peniel Community Church.

She was married to the late Elza Westfall for 68 years and is survived by two sons, Danny "Frank" (Donna) Westfall and Kenneth (Jennifer) Westfall, all of Spencer; two daughters, Sue (and the late Larry) Peffer and Barbara (Tom) Smith, all of Spencer; nine grandchildren; and thirteen great-grandchildren.

In addition to her parents, husband, and son-in-law, Dorothy was preceded in death by a daughter, Nancy Elliott and a grandson, Keith Westfall.

Services will be at 1:00 p.m. on Thursday, October 2, 2014 at the TAYLOR-VANDALE FUNERAL HOME in Spencer with Pastors Tim Couch and Justin Simmons officiating. Burial will follow in the Mt. Olive Cemetery on Reedyville Road near Spencer. Visiting hours are Wednesday from 6:00 to 8:00 p.m. at the funeral home.