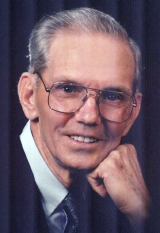 Donald C. Bush, 92, of Grantsville, WV died on Friday, September 26, 2014 at Cedar Grove Assisted Living.

He was born August 8, 1922 in Grantsville to the late Bruce and Maude (Jarvis) Bush.

Donald graduated from Calhoun County High School in 1941 and then joined the U.S. Navy where he served for three years. He then served in the U.S Army Reserves for 31 years. Donald worked as a Well Tender for Hope Natural Gas where he retired in 1983. He enjoyed woodworking, restoring his 1931 Model A Ford, traveling and was known for his quick wit and sense of humor.

He is survived by two daughters, Linda Wilsman of Parkersburg WV and Beverly Browning (Jim Taggart) of Davisville WV; one son, Richard "Dick" Bush of Grantsville; seven grandchildren; 10 great grandchildren; twin sister, Dorothy Propst of ZephyrHills, FL; two brothers in law, Von (Freda) Yoak of Grantsville and Dale (Marian) Radabaugh of Hazlet NJ; and one sister in law Patricia Radabaugh of Grantsville.

In addition to his parents, he was preceded in death by his loving wife Martha Maxine (Radabaugh) Bush; two brothers; two sisters; and two sons in law, Bill Wilsman and Victor Browning.

A graveside service will be held on Saturday, October 4, beginning at 11:00 a.m. at Pleasant Hill United Methodist Church Cemetery in Grantsville, WV with Rev. Rick Metheney officiating. Full military honors will be conducted at the graveside.