LULA STARCHER HUGHES, 103, died in January, 2020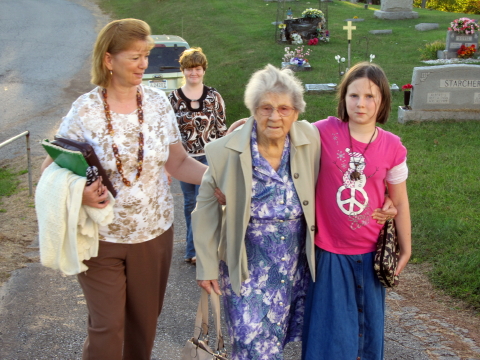 Lula Hughes comes back to her long-time
church, climbing up the ramp and stairs
By Bob Weaver 2013
The Mt. Olive United Methodist Church at Hur, with a history of 130 years, was closed a few years ago, after which community members purchased the structure.
In more recent times, efforts have been made to re-open the structure, including long hours in rewiring the building by Charles "Tap" Kerby, a project he just completed before his untimely death this year.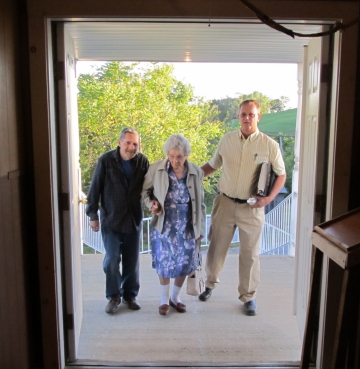 Coming Home (L to R) Holly Starcher, Lula
Hughes, and Pastor Roger Sweppenhiser
Lula Starcher Hughes, 97, who attended the church during her early years, has long been the leader to open the doors again. Lula is undoubtedly the last of the "old saints" still living that belonged to the congregation.
Sunday night Lula returned to the Hur church for worship services, climbing up the long incline with a little assistance.
"My but I do have memories here," she said, recalling dozens of members of the faith community in the early 1900s.
"They were good hardworking people, and they loved the Lord."
She recalled attending church in an earlier structure in the 1920s during her childhood while living down on Buckhorn.
Revivals were "protracted," which meant they continued until every possible soul was saved and all the backsliders returned to grace. "I recall one lasting nearly three weeks," Lula said.
Lula came from a family of six children, the daughter of the late Grover and Rosa Adams Starcher, being born in a single-room house built by her father.
Grover was the long-time caretaker of the Hur Cemetery.
"It was a plain looking church, benches and gas lights inside. Oh, I remember the old wooden mourners bench," she recalled.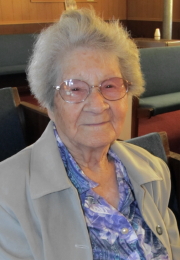 Lula (left) says she recalls eight churches being on the circuit, Hur, Joker, Barnes Run, Stony Point, Richardson, Sand Ridge, and two churches in Roane County, Pup Run and Egypt Ridge.
"The circuit preacher went to them all," recalling early minister Rev. Dorsey Miller, who lived to 104, and the Rev. Glendon McKee, the longtime pastor.
She recalled a few of the early families, Smith, Everson, Kerby, Nutter, Roach, Nutter, Husk, Slider, McCoy, Starcher, Riggs, Roberts, Sturm, Miller, and Sampson.
"There was a lot of shoutin', and one man who would get happy and throw his song book off the ceiling," Lula said, while others would praise the Lord walking across benches or circling the church outside.
"The place was full of old saints of God," she concluded. There were few diversions, no TVs or electronic devices, only a few motorized vehicles, none very shiny. Most walked to church.
Now, Lula is the last of the "old saints."
See LULA HUGHES IS A WALKING HISTORY BOOK - Hur Native Turns