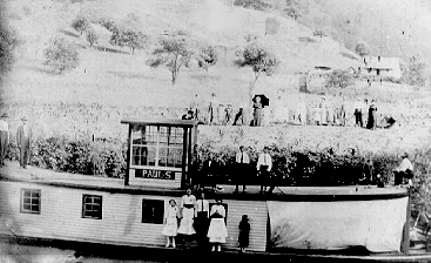 Paul S. Riverboat On Steer Creek

Photo Taken on Steer Creek at the Mouth of Raccoon Standing on Catwalk, left to right: Daisy Knotts Stump, Eda Stump Knotts, Carl Stump, Nell Stump, Gene Stump; On top of boat: Sylvester Stump, Charley James, John Stump, Victor Boggs, Harold Boggs, Dave Stump, Paul Stump (grandson of Sylvester Stump and person for whom the boat was named), Tom Stump; On creek bank: Jerry Kendall, Bob Bennett, Ina Bennett, Lelah Bennett, Doc Stump, Nellie Stump, Edna Stump, Artie Vannoy, Zella Stump, Nellie Stump Boggs, Georgia Stump McCartney, Mary Stump, Emily Stump, Martha Stump Vannoy, Stella Stump Mace, Frank Stump, Dan Vannoy, Louisa Vannoy

(Photo Courtesy of Robert J., Jr. and Hazel Collins Knotts)

In 1911, Uncle "Vess" Stump, one of the pioneer citizens of the Steer Creek Valley, and a highly respected gentleman announced he was having a gasoline boat built.

The boat was being built by Sylvester Stump, which he will have great use for in the trade from here to Stumptown and other up river point," according to an account in the Calhoun Chronicle.

The vessel was named "Paul S," named for Paul Stump, according to Norma Knotts Shaffer.